Back to List
Acclaim
Soprano makes D.C. debut in 'Carmina Burana'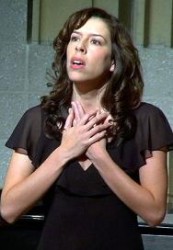 WASHINGTON - Coloratura soprano Audrey Elizabeth Luna makes her Washington-area debut as soloist with the National Philharmonic Chorale. The performance of Carl Orff's "Carmina Burana," conducted by NPC Artistic Director Stanley Engebretson, also features guest artists baritone Leon Williams and tenor Robert Baker.

The winner of numerous competitions and awards, Luna is praised for her astounding range and projection. She says she is thrilled to repeat a favorite role that lends itself naturally to her voice.

Audrey Elizabeth Luna will make her D.C. debut in "Carmina Burana" with the National Philharmonic Chorale. -- Courtesy Photo

"My part is gorgeous," she says. "It encompasses my entire range, and I love being able to show everything I have. I sing only in the 'Court of Love' and represent the female side of the two-part relationship between men and women with its grace, desire, joy and love. The baritone, on the other hand, sings of darkness and grief. It's written as a circle, and I make it come back full circle.

"I know my voice lives in the role because the high notes come naturally. It's easy and fun, and I get excited each time I'm asked to sing it. I especially enjoy the beginning when I'm sitting at the front of the stage listening to the orchestra and chorus for the first time and seeing the faces in the audience and their initial reaction. They're blown away by the music, and when the chorus comes back at the end, I love watching their reaction of joy."

The Salem, Ore., native credits her mother with recognizing her musical talent at an early age. Along with piano, flute, violin and ballet lessons, Luna commenced basic vocal lessons at age 10, moving into classical studies at 14. After graduating from Portland State University, she obtained her master's degree at Cincinnati Conservatory of Music and was soon involved in young artist programs at Santa Fe Opera and Pittsburgh Opera.

At Pittsburgh, she took a major step forward in her career when the soprano singing the difficult Queen of the Night role in "The Magic Flute" became ill. Going on with less than 24 hours' notice, Luna earned raves. Several months later, she repeated the same kind of last-minute success singing Juliet in a Hawaii Opera production of "Romeo and Juliet."

Luna was recently married to Met singer Jordan Shanahan. Their Chicago base is central to their various commitments. This season, her busy schedule includes Blondchen in "The Abduction From the Seraglio," Cunegonde in "Candide" and another chance to perform Queen of the Night.

"In opera, you have to think about blocking, staging and character," she says. "Concert work like 'Carmina Burana' and Bach or Mozart cantatas is a nice change because it gets me back to healthy singing, or focusing on technique. I enjoy sitting back and listening to a beautiful orchestra, soloists and chorus and feeling the spiritual experience."
—
Emily Cary,
The Examiner (Washington DC)