Back to List
Acclaim
Catching up with Audrey Elizabeth Luna, queen of the upper tessitura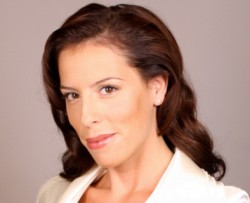 Portland State University's opera program has fostered so many outstanding singers that it's almost a wonder that it doesn't have conservatory status. Among professional opera singers who have studied at PSU are Christine Meadows (the current opera program director), Clayton Brainerd, Angela Niederloh, Kelley Nassief, Anna Jablonski, and Konstantin Kvach. Now you can add Audrey Elizabeth Luna to that group of grads. Luna is a soprano who can sing the ultra high notes like those that are required of the Queen of the Night in Mozart's Magic Flute. She recently completed a Queen of the Night gig with Santa Fe Opera and will be making her debut in this role at the Met this season.
I exchanged email with Luna while she was in Santa Fe, to find out more about her career.
The Lakme video shows off your upper register so wonderfully. What is the highest note in that piece? It sounds like an E above high C?
Luna: Yes the highest notes in the Lakme are E above high C. Some of the roles that I sing go even higher than this. For example, I frequently sing Queen of the Night which has the most famous high Fs in opera. I have interpolated an F# in Ophelia's Mad Scene, in The Tempest by Thomas Ades to Gs, but the winner is the Doll's Aria from the Tales of Hoffman in which I interpolate and sustain a high A above high C!
[Double Wow!]
A lot of us have lost track of you after you left Portland State. Can you fill us in a bit?
Luna: I was born in Salem, lived all over Oregon while growing up and received my BA from Portland State University. I left Portland when I was 21 to begin my Master of Music. at Cincinnati Conservatory of Music. I received my M.M. in 2003 and stayed on for my A.D. in Opera which I received in 2005. That summer I met my now husband and baritone Jordan Shanahan while in the Santa Fe Opera apprentice program. We fell in love in Santa Fe and spent that fall and winter in New York while Jordan was working at the Metropolitan Opera on The American Tragedy. While in New York I auditioned to be a Resident Artist at The Pittsburgh Opera and got in. I spent two years in this program from 2006-2008. At the same time Jordan was in the Ryan Opera Center at Lyric Opera of Chicago and so we decided to make out base in Chicago and have since kept that base. I may not get to spend much time there, but I do love the city.
Do you have to travel much?
Luna:I am constantly traveling and haven't even been home since February. The last couple of years I've reached the second highest level of frequent flyer benefits with United Airlines (50,000 miles per year) because I have traveled so much. This year I've spent time in New York, Texas, Washington DC, a month at Tanglewood for Ariadne auf Naxos, and Santa Fe to do the Queen of the Night.
Is most of your singing in the US - or are you traveling to Europe and other countries to perform as well?
Luna: I have had some work in Europe, mostly in Italy, but the majority of my work has been in the states. This fall I will be spending about a month in Europe for auditions so that I can expand my career internationally. I really enjoy seeing the world and experiencing new cities and cultures as a part of my job.
How in the heck do you hit these high notes? What is your secret? Do you vocalize for 30 minutes? Do you drink five espresso?
Luna: Being a coloratura soprano, I naturally have a high extension. The first time I sang Queen of the Night, I was 19. Frankly, at that age, I believed and I think my teacher also thought that it was just a vocal trick that I could sing those notes, but with more study, I learned that my voice naturally lies high. It doesn't take much time to warm up, I don't do anything special or out of the ordinary to sing high notes. Singing the highest notes are what come easiest.
Is opera something that you've always wanted to do? Do you come from a family of musicians?
Luna: I knew that music was what I loved more than anything else since I was very young. I began taking voice lessons when I was 10 years old. At 14, I continued my studies with Brian Swingle in Salem, and he very cautiously and with great care began to introduce me to opera. I decided that this was truly my path when I began voice lessons with Ruth Dobson at Portland State University. She opened my eyes to what my voice was truly capable of and helped me become more confident with helping me to enter competitions and encouraging me to continue my studies at her alma-mater at CCM. I am the only musician in the family. I come from a small family and although no one is musical, my mother recognized that I had a natural talent at an early age and helped to nurture that talent through voice, violin and piano lessons.
How is the production in Santa Fe going? It must be difficult to sing well at the 7,000 foot level.
Luna: My time at Santa Fe is very special to me and close to my heart. Santa Fe brought me into the fold as a young artist in 2003 and 2005, and it was there that I discovered so much about the world of opera. It was eye-opening to me to get to work so closely with the main stage artists as we all we their understudies and in the chorus. It was the first opera company I worked at and also where I met my husband. I was thrilled to learn that I would be going back to make my leading role debut as the Queen of the Night. Having been there a few summer's before, I knew I needed to plan to arrive a week early so that I could adjust to the altitude. 7000 ft is definitely different from singing at sea level, the first couple of days you can feel light-headed and short of breath, so with rest and lots of water because of the desert climate you begin to feel normal again in no time. They're very smart at the Santa Fe Opera and bring people out a few weeks early so that by performance time everything is in working order.
You will be singing the Queen of the Night at the Met this upcoming season. Will this be your first appearance at the Met? Do you have goosebumps?
Luna: This will be my debut at the Met and even though it is the most important opera house in the world, I will be thinking about it as I would with my debut at any company I'd never sung with before. Of course there are always butterflies and excitement with any performance, but you can't let them take over. I've done a lot of competitions, and one thing I learned from them is that in order to be successful you need to treat a performance day the same as any other day. If you make a big deal out of it in your mind it can easily become an intimidating situation. So even though it is the Met, I'll get up and go to work just like any one else would, and allow myself to enjoy an experience that every opera singer dreams of.
Career-wise, are you going to stay in the field of opera?
Luna: Opera is an art form that only exists through the hard work of people over the course of their entire lives, and I hope my work will extend beyond my singing career. I will have as long a singing career as my voice will allow, and when I decide to retire from singing I hope to continue in the world of opera in whatever capacity I can. I have been very lucky to have been helped and nurtured by many wonderful and talented people; voice teachers, coaches, opera companies, adjudicators of competitions, and the wonderful people who have given financial support. These people inspired and helped me when I really needed them and when I am no longer able to sing, I would love to do the same for the next generation of opera singers.
Do you have any recordings scheduled?
Luna: No recordings scheduled that I can speak of yet. I do have an opera scheduled for an HD broadcast and possibly a DVD, but I can't give details about that until the company involved publicizes it.
What are you singing with the Los Angeles Philharmonic in March?
Luna: I will be singing a new piece with the LA Phil called Cantatrix Sopranica by Unsuk Chin (conducted by Benjamin Shwartz) as a part of the Green Umbrella concert series of contemporary music. I am very excited about it as I love being part of premiere works. I'm always excited as an audience member to hear music that has never been performed before, so to be the performer is a real pleasure.
--
You should know that Audrey will be singing another role at the Met this season as Najade in "Ariadne auf Naxos". She will also sing her first "Lucia di Lammermoor" with Opera Naples in Florida. Finally, Audrey and her husband will be singing Figaro and Rosina in "The Barber of Seville" with Opera Memphis and Mississippi Opera.
—
James Bash,
Oregon Music News