Back to List
Acclaim
Sound Bites: Audrey Luna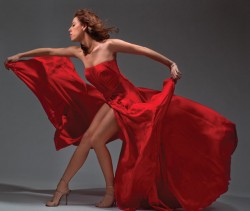 Audrey Luna is no piping soubrette; she's a bright lyric coloratura with real backbone to her voice. She also has an uncommonly wide repertoire for a coloratura; it ranges from Lucia to Juliette to Mélisande to Madame Mao in Nixon in China. "You have to have color to sing those roles," she says. "Lucia isn't high all the time - it's fairly round and rich and sometimes low. And sometimes in modern music, you have to sing down in the gutter to get a point across - it's coloratura, but it also goes down low. So I think doing the wide variety of repertoire keeps the color and power in my voice. You can't sing the poison aria in Roméo et Juliette without having that."

This past winter, Luna sang the Queen of the Night in Lyric Opera of Chicago's Die Zauberflöte. While visiting Naples, she got a call to audition on the Lyric stage. (Kathleen Kim, originally scheduled to sing the Queen, had withdrawn.) Luna declined to leave Naples, but more than a month later, after singing a Gretel in Montana, she finally auditioned for Lyric's Andrew Davis and Anthony Freud. Five minutes later, as she walked to her Chicago apartment, she got the call telling her she had the role.

Luna, who looks a little like the young Carol Burnett, was born in Salem, Oregon, and lived all over the state, doing her undergraduate work at Portland State University before going on to the Cincinnati Conservatory of Music. There, she studied with Barbara Honn, who helped her build a strong technical foundation. She apprenticed at Santa Fe and Pittsburgh Operas, where general director Christopher Hahn handed her an entire run as the Queen of the Night when Amanda Pabyan twisted her ankle.

Few Queens of the Night have resumés dotted with works by George Crumb, György Kurtág and Chen Yi. Next season, Luna will sing Ariel in The Tempest when it comes to the Met. "I think what led me down the Adès path," says Luna, "is that [Met associate artistic administrator] Lenore Rosenberg heard me in the Renata Tebaldi Competition in San Marino. I was singing crazy, high stuff, and I think she thought that maybe I could do Ariel. A couple of months later I did my first stage audition at the Met, and I didn't sing anything other than Ariel. I had had a couple of months to prepare it, and I might have gotten overzealous, but I memorized the entire role. Maybe six months later, they had me back to sing for Adès, and I sang it again in the rehearsal room downstairs, still memorized. It was great, because he coached me a little bit. The tessitura is higher than the Queen, but I think people don't remember that there's an entire section that rests in the lower register. I'm holding onto that middle, and the rich and the round."
—
BRIAN KELLOW Brian Kellow,
Opera News