Back to List
Acclaim
Bringing turbulent energy to Brahms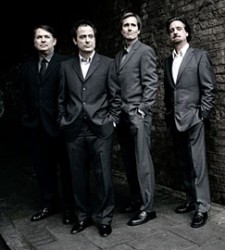 One of the best-kept secrets of London's concert life is the capital's quietly insatiable appetite for chamber music.

If a top group such as the Emersons are playing, the hall will be full, the audience far from decrepit, always well informed and totally attentive.

This was certainly the case for the New York-based ensemble's weekend series of three Brahms concerts. In each, one of the composer's larger chamber works and a quartet was grouped with a masterpiece by Beethoven, Schubert and Mozart.

Saturday opened with Beethoven's Opus18 No14 in C minor, spry and lucid when heard alongside the concentrated, turbulent energy of Brahms's own quartet in the same key, Op 51 No1.

At times Philip Setzer's light-bodied first violin was overpowered by the weightier tones of the other three. The exciting, huge viola sound of Lawrence Dutton, ideal for Brahms, shines new light into this music with passion and assurance.

This group, founded in 1976, is remarkable in that it swaps first and second violins according to repertoire. Normally this sort of democracy leads to blood on the floor.

It says much for Setzer and his fellow violinist, the meatier-toned Eugene Drucker, that they are still playing together and, we assume, speaking.

The series ended with a slightly fussy account of Mozart's "Hunt" K458 and a not quite taut account of Brahms's B flat Quartet, Op 67.

But then the group was joined by cellist Colin Carr and violist Paul Neubauer for the magical Sextet No 2 in G, Op36.

Carr's febrile, juicy pizzicatos paired with Emerson cellist David Finckel's noble eloquence acted as pivot for the entire work. A triumphant finale, joyfully delivered.