Back to List
Acclaim
A Helping of Beethoven, Anchored by a Piano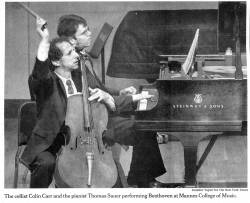 Spring and summer at the Mannes College of Music bring a parade of short, intensely focused festivals and institutes that include master classes, symposiums, lectures and recitals organized around either instrumental repertories (the guitar and the keyboard) or historical periods. Last week, the school's fifth annual Beethoven Institute got under way, and next week, as a kind of stylistic counterbalance, the spotlight is on contemporary music.

The concerts tend to be neither flashy nor didactic. They take place in the school's comfortably intimate auditorium, and at a faculty chamber concert on Wednesday the pianist Thomas Sauer - who also directs the institute - provided a hint of academic support by offering a few structural comments about the program's two works as a preface to the performance.

Mr. Sauer's pianism was the anchor in both works. In the "Archduke," it was truly central: the supple dynamic shadings that Mr. Sauer applied consistently set the tone for his collaborators, the cellist Timothy Eddy and the violinist Serena Canin. That isn't to say that Mr. Eddy and Ms. Canin never took the initiative.

In the finale, particularly, they gave a lively account of Beethoven's broadly humorous dialogues. But there was a warmth and vitality in Mr. Sauer's keyboard textures that went beyond what was happening in the string lines, and that sometimes created the illusion that the music was being composed on the spot.

The Cello Sonata, for which Mr. Sauer was joined by Colin Carr, was more democratic. As fine as Mr. Sauer's playing was here - and there were some remarkably crystalline textures in the closing Allegro vivace - it never fully stole the attention from Mr. Carr's magnificently deep, rich tone. Still, this was a collaboration, not a duel, and when they were at their best, probably in the Scherzo, Mr. Carr and Mr. Sauer made the music sing with an almost Schubertian lilt while preserving its purely Beethovenian muscularity.
—
Allan Kozinn,
New York Times