Back to List
Acclaim
A key to every heart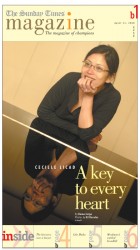 She was here for only 18 days--arriving on March 12 and soon after on March 30, two day after her most recent concert at Cultural Center of the Philippines. But she opines, "That's long. I usually stay here for just 10 days." Visiting the country only once year, this time she had days to spare to enjoy the incomparable beaches of her homeland. Time is something she steals from her hectic schedule. Cecile Licad is a wanted woman the world over.

She is a consummate thief. She has walked away with the hearts of countless music lovers. Licad is the incomparable mistress of the keys.

A lady of 47, she is a sensuous splay of legs flowing from her denim miniskirt. But like a sheepish girl, she hides them by hugging a pillow. Decades of jet-set travel, countless performances before glitterati in evening gowns and the daily grind as a savvy New Yorker have failed to drain the Filipina out of her. Her speech is free from foreign inflection. Her voice, so famously unexpected of such a feminine figure, still has all the deep sultry mystery of an alto saxophone. Up close and personal--without regiments armed with brass, woodwind, string and percussion to lead and without a row of ebony and ivory to strike and pound--she reveals a disarming side of herself that is truly pianissimo.

In her brief stays in country, she takes time to stay with her mother. She still is a Manileña. A person who admittedly spends most of her time alone, she confesses, "Every time I come to Manila, I have to see so many people. I can sometimes be overburdened."

Her last concert in the country on March 16, 2007, entitled The Next Generation was a family affair of a different kind. She performed with her then-19-year-old son, Ottavio Licad-Meneses, for the first time to the delight of audiences such pieces as Poulenc's "Concerto for Two Pianos," Adam's "Short Ride in a Fast Machine," Beethoven's "Concerto No. 2 in B Flat Major, Op. 19" and Bartok's "Deux Images, Op. 10." She confides, "I just challenged him to learn that. It was just his hobby. But then, who know?" she reveals. Today, the young man busies himself studying Philosophy.

Ottavio's persona--disciplined yet laidback, affable yet deep, humble yet confident--speaks well of Licad's motherhood. He is no henpecked boy living under the shadow of his famous mother. Licad has given the world a man who commands of his own destiny. She confesses. "I actually learn from him. He understands me. [He says,] 'You have to go through this, mom.'"

Born on May 11, 1961, in Manila, Licad began her piano studies at the age of four with her mother, Rosario Licad. She recalls her earliest memory: "I was on the floor and my mother, a piano teacher, is teaching piano to my cousins and some protégé about 8 years old. She was playing all these beautiful pieces and I kind of wanted to do it."

She remembers, "My mom never pressured me until I wanted to take it seriously."

"I was kind of stubborn. I competed with her. I said, 'I can do that better.' I always had to say she was wrong," she confesses. L'enfant terrible indeed. She adds, "I was hard-headed from the beginning, which helped, now that I think about it."

Complementing her mother's mentoring was her father's strict upbringing. "He was quite authoritarian. I was scared of him," she recalls, but adds, "he was doctor, so I always wanted to get sick just to go to the hospital. I don't know why." "I was born into a weird family. Everybody was dysfunctional. I wasn't dating boys. I wasn't allowed to have friends who weren't my cousins or who weren't musicians," she says with a laugh.

Despite this, Licad opines that, contrary to stereotype, she sacrificed nothing from her childhood to become the virtuoso she is today.

"At five-and-a-half, I was performing [at Far Eastern University]," Licad recalls. She debuted as a soloist with the Philharmonic Orchestra of the Philippines (PPO) at the age of seven. She received further mentoring from Rosario Picazo. At 14-year-old, she studied under Rudolf Serkin at the Curtis Institute of Music in Philadelphia, US.

Even today, she relentlessly hones herself: "I'm mostly in the house working, practicing new repertoire. There's so much to learn in piano literature. I'm learning in every situation, every day, trying to figure out how to communicate what the music demands."

She admits being temperamental, but only at home and only with herself. "That's why I'm always by myself. I'm always complaining and crying. I pressure myself," she confides.

Licad reveals: "I go through a lot of phases working on something. I actually torment myself to be able to communicate to the public. The comparison is to acting; you really internalize and question it. I go to the extremes. I don't get contented easily. I try to go deeper. I want to dissect it. I tear at it if it doesn't make any sense. The most important thing is to put character into the music. You have to make it live. Sometimes, you're playing your best when you're not so sure of yourself." She declares, "I like to experiment."

The world-renowned concert pianist continues to search for new learning experiences. Despite her stature, she dares gamble her reputation on challenges that stymie the world's best. These include Alexander Scriabin's "Seventh Piano Sonata [White Mass]"--a piece so fiendishly difficult to perform, being highly chromatic and almost atonal, that 15 pianists challenged to perform it for a musical festival in Germany last year gave up. "It's impossible. It's difficult. It's 15 minutes long. It's all over the place. You can't even find where the melody is," she explains. Nonetheless, Licad took on the challenge. The stubbornness she exhibited so early in life allowed her to master the piece.

Works that intrigue her the most include those of American composer and pianist Louis Moreau Gottschalk--a New Orleans Creole whose compositions in 1800s foreshadowed jazz. In 2003, she released an album of Gottschalk piano music. Licad reveals that she is currently working on the soundtrack to an independent film on the man's life.

Another work that fascinates her is the "Piano Sonata Op. 1" by early 20th century French composer Henri Dutilleux. "It's a 40-minute long piece," she explains.

Her prodigious discography reveals her popularity as well as her passions: album performances of Chopin, Rachmaninov, Beethoven, Tchaikovsky, Brahms, Ravel and Schumann.

Licad divulges the secret to her impassioned interpretations: "I actually get ideas from people who are not into music. I was just playing the melody of a Beethoven Concerto and a friend of mine said, 'That sounds like rabbits jumping.'"

She reveals yet another secret to her unique approaches: "I don't listen to recordings. If I'm learning something, I learn it from scratch. I'd rather know the music from the notes."

She does things the hard way. And that speaks volumes about her. This need to constantly challenge her self continues to propel her.

"At the end, I tell myself, this is what I chose. Isn't there a possibility where I can perform and really enjoy it? I have to enjoy it, even when it's difficult." Perhaps she may even enjoy her music as much as we do. Cecile Licad--constantly arriving, relentlessly learning, ever the same girl doing it her way.
—
Rome Jorge,
Manila Times (Philippines)