Back to List
Acclaim
Sweet Sounds: Festival's chamber-music series showcases some of its finest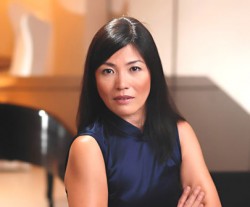 Chamber music is my favorite thing in the whole world. So when a promising new series comes our way, I'm more than happy to help pass the word.

The Monday chamber-music series is an addition to the Eastern Music Festival, which will run through Aug. 2 at Guilford College and other venues in Greensboro. It is on Monday evenings in the Recital Hall at UNC Greensboro. It was established to better accommodate EMF students, who have had a difficult time getting seats for Tuesday concerts in the Carnegie Room of Hege Library at Guilford College.

In several instances, too, the festival is using the performances at UNC Greensboro to showcase the chamber-music skills of star guest musicians who have soloed in concertos with one of the festival's orchestras. This coming Monday evening, for example, pianist Awadagin Pratt will team up with EMF instructors in Schubert's A-Major Piano Quintet ("The Trout"); on Friday, he will join the Young Artists Orchestra, a student ensemble, in Mozart's Piano Concerto No. 23.

So how is Monday music at UNC Greensboro going? I would say very well indeed, having attended a performance on July 14.

Many paying customers were on hand, but numerous students, shuttled in from EMF's base at Guilford College, were still able to find comfortable seats in a hall that has some of the best acoustics in the area. I'd be willing to bet that many of them walked away feeling enlightened and inspired.

The program accomplished what a festival ought to do, namely provide a memorable introduction to less-than-familiar repertoire of merit.

I had never heard of Viktor Ewald (1860-1935), a Russian whose Third Brass Quintet opened the program. In his excellent program notes, Steven Ledbetter tells us that Ewald made a lasting mark among brass players "because he produced almost the only original music in the Romantic era for brass quintet, a medium that has become very popular in the century since the time he flourished."

The Ewald piece was in four diverse movements. The fine performers were Judith Saxton, an instructor of trumpet at the N.C. School of the Arts, along with trumpeter Robert White, horn player Kevin Reid, trombonist Gregory Cox and tuba player Lee Hipp. They invested the lush, idiomatically attractive music with felicitous-sounding, well-balanced ensemble playing that brought the best out of each solo part. Liken it to an urbane conversation in which everyone gets his say and makes the best of it.

Alfred Schnittke's Piano Quintet, from 1976, came just before intermission. The violinists in the piece were Penny Thompson Kruse and Jessica Guideri. Danielle Farina played viola, and Margo Tatgenhorst Drakos was on cello. The pianist was Gideon Rubin.

Schnittke began writing the quintet after his mother died, and his grief is palpable in the piece's five, very slow movements. A lovely waltz is subsumed by the darkest of dissonance, and in many instances, the strings flavor the melancholy with a relentless buzzing like that of bees surrounding a target in threatening fashion. The pianist doesn't so much end a passage as make it fade away, striking the same note again and again until, like a heart that stops beating, it is no longer heard.

The program's last piece made the strongest, most lasting impression. This was Tchaikovsky's A-Minor Piano Trio, performed by pianist Cecile Licad and two excellent string players, both EMF instructors: violinist Jeffrey Multer and cellist Drakos.

Licad, whom The New Yorker has called a "pianist's pianist," is certainly among the finest virtuosos playing today. She came across as utterly fearless and committed -- qualities that seemed particularly well suited to the variation after variation of the second movement's folk melody.

The melody is a simple, unforgettable tune you can hum while walking out of the concert hall. It finds its inspiration in what Ledbetter describes as Tchaikovsky's "recollection of a spring day when (Nikolai) Rubinstein had ordered wine and cheese for a group of local peasants, who then entertained him and his friends with songs and dances." Rubinstein conducted the premieres of many Tchaikovsky pieces. He died before the piano trio was composed, and the work's elegiac first movement is dedicated to him.

The variations run the gamut, from a section in which intricate counterpoint rules to another that sounds straight out of one of the composer's ballet scores. At one point, the composer comes up with sounds in the piano's highest registers that are similar to those of a music box.

Yes, the whole thing is a bit over the top. But somehow I never tired of all the excess, and the trio made each part of it sound thoroughly engaging.

My only regret is not having heard Licad solo July 12 in Rachmaninov's Third Piano Concerto with the Eastern Festival Orchestra, which consists of EMF instructors. I'm told that she did an excellent job. Let's hope that Licad's next appearance at EMF will happen soon.
—
Ken Keuffel,
Winson-Salem Journal