Back to List
Acclaim
Chama dishes it out with gusto in Portland Opera's hilarious and charming "Falstaff"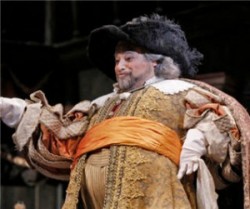 Eduardo Chama created an unforgettable Falstaff in Portland Opera's production of Verdi's masterpiece of comedy. Directed by Christopher Mattaliano (who is also the company's artistic director), Chama anchored an exceptionally well-balanced cast that brought out all of the nuances, both in singing and acting, of the story, which Verdi lifted directly from Shakespeare. Every minute of the performance on opening night, Friday (May 10) was relished by the very full audience at Keller Auditorium.
Chama's Falstaff was full of himself, but in a loveable way. Chama excelled a myriad of little things such as trimming his moustache and then pulling out a nose hair or two with a twitch. He was also nimble with his feet as he danced a jig of delight. He was just a big Teddy Bear when he tried to get the children fairies off of him during the final scene under the giant oak tree.
Chama also got tons of laughs when he delivered some of his best lines, as when he told one of his inebriated sidekicks "When we go to the taverns, your nose serves as a lamp" and later bellowed "You guys are eating me alive." But the most laughter came when he stroked his giant belly and declaimed "My kingdom of the belly," and "I am king of bellies." The audience was practically rolling in the aisles.
Although Chama's Falstaff was the main course, the other principals dished up superb performances as well. Pamela Armstrong was a charming and lively Alice Ford, who could entice Falstaff yet stay a step ahead of him. Caitlin Mathes created a wonderfully outraged, yet sly Meg Page. In the role of Dame Quickly, Angela Niederloh used winks and nods, Cheshire Cat-like grins, and a supple mezzo to trick Falstaff.
Even though he was confined to a wheelchair because of a torn leg muscle (sustained during rehearsal), Weston Hurt delivered Ford's magnum opus on jealousy ("É sogno?") with such ferocity that the audience completely understood how he would practically order the destruction of his own home in order to find the conniving Falstaff.
The great chemistry between Susannah Biller and Nicholas Phan as the forbidden lovers Nanetta and Fenton gave that subplot extra zest. Biller displayed incredible vocal control, such as when, in one of her arias, she held a note and let it blossom with more volume and urgency.
Carl Halvorson complained convincingly as the aging Dr. Caius. Nicholas Nelson's Pistola and Marcus Shelton's Bardolfo were terrific cutups as members of Falstaff's gang. Adding to the fun of the story was an outstanding chorus, prepared expertly by Nicholas Fox.
The orchestra, under George Manahan, maintained an excellent pace, but intonation by the violins in the exposed section at the beginning of the final scene was suspect.
Using traditional costumes from the Canadian Opera Company, and evocative scenery designed by Wolfram Skalicki, Portland Opera's production seemed to fit the actors and the stage like a glove. Over twenty years have gone by since the company last presented "Falstaff. So don't miss this one. There are two shows left to see, tonight (May 16) and Saturday (May 18).
—
James Bash,
Oregon Music News