Back to List
Recordings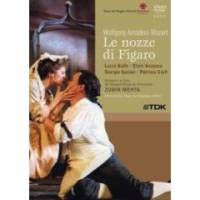 Le nozze di Figaro
Released:
January 1, 2006
Wolfgang Amadeus Mozart
Le nozze di Figaro
Teatro Comunale, Florence, 2003

* * *

Lucio Gallo (Il Conte d'Almaviva)
Eteri Gvazava (La Contessa d'Almaviva)
Patrizia Ciofi (Susanna)
Giorgio Surian (Figaro)
Marina Comparato (Cherubino)
Giovanna Donadini (Marcellina)
Eduardo Chama (Don Bartolo)
Sergio Bertocchi (Don Basilio)
Eleonora Contucci (Barbarina)
Gianluca Ricci (Antonio)
Carlo Bosi (Don Curzio)

Orcestra e Coro del Maggio Musicale Fiorentino

ZUBIN MEHTA
Stage Director Jonathan Miller

Release Dates
Europe: Dec 2005
USA & Canada: Jan 2005

* * *

With this recording of Le Nozze di Figaro TDK not only continues its series of opera recordings from important Italian opera houses and festivals, it also takes one of the most famous Mozart operas into its catalogue.

In his 2003 production for the Maggio Musicale in Florence, director Jonathan Miller invested the complex relationships between the characters with countless tiny erotic charges and even obvious sexual symbols. The artistic director of the renowned Maggio Musicale festival Zubin Mehta brings out not only the tension and drive of the music but also its harmonic richness.
Related Links
Featured Artists