Back to List
Acclaim
Parker, Lin, and Hoffman create magic with Brahms Piano Trios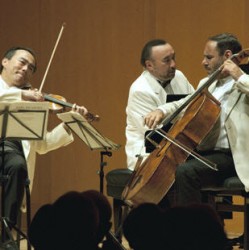 Pianist Jon Kimura Parker, violinist Cho-Liang Lin, and cellist Gary Hoffman gave spellbinding performances of the three piano trios of Johannes Brahms on Monday evening (July 11). Their concert, presented by Chamber Music Northwest, rocked the full house at Kaul Auditorium with warm-hearted, lyrical, and edge-of-the-seat playing that makes audiences listen with the utmost intensity. During their entire performance, very few coughs occurred, and I didn't hear a single dropped programs or cell phone interruption.
The high-caliber playing of this threesome resulted in superb performances in which the ensemble sounded as one, yet each individual was distinct. Highlights of the Brahms Trio No. 2 in C Major included seamless exchanges between the players in first movement, the understated Hungarian flavor of the second, the highly articulated and nervous quality of the third, and the stormy dynamics in the fourth.
In the hands of Parker, Lin, and Hoffman, the melody at the beginning of the Trio No. 3, in C Minor was like a beautiful aria. The ensemble excelled in creating hushed tones, immaculate pizzicatos, leisurely moods, and dramatic, full-throated cries that gave an immediacy to Brahms's music as if it were written just yesterday instead of 125 years ago.
The Trio No. 1 in B Major also received superb treatment from Parker, Lin, and Hoffman. One of the terrific moments in the first passage occurred when the violinist and cellist played the exact same notes so that each one sounded larger. The light, repetitive theme in the second movement sparkled. In the third, the piano perfectly echoed - as if from a distance - passages from the strings, and the fourth topped it all off with themes that expressed sadness and happiness at the same time.
Parker, Lin, and Hoffman have just the right chemistry whenever the get together. They were marvelous last year at the festival when they played Brahms's Trio No. 3 in C Minor (reviewed here), and I hope that they will return to Chamber Music Northwest next year.
—
James Bash,
Oregon Music News