Back to List
Recordings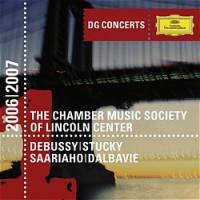 The Chamber Music Society of Lincoln Center
Catalog Num:
|D|D|D| 477 662-7 |G|HD|
The Chamber Music Society
of Lincoln Center
Werke von / Works by
Marc-André Dalbavie
Claude Debussy · Kaija Saariaho
Steven Stucky
DG Concerts
Live from Alice Tully Hall
Only available as digital download

The first project in the new Deutsche Grammophon "DG Concerts" collaboration features one of this season's most stimulating and critically acclaimed Chamber Music Society programs. The three chamber sonatas of a planned cycle of six that Claude Debussy was able to compose before his death in 1918 are coupled with the "completion" of the French master's ambitious project by three of the most exciting creative voices on the current musical scene, French composer Marc-André Dalbavie, Finnish composer Kaija Saariaho and American composer Steven Stucky.

About the contract, CMS Artistic Directors David Finckel and Wu Han said: "We are truly excited to become a DG Concerts partner. Deutsche Grammophon's unwavering and visionary commitment to the future of recording mirrors the Chamber Music Society's devotion to serving our art at the highest level. As the exciting future of recording unfolds, we look forward to working with DG Concerts to ensure an engaged and growing audience for great music."
Related Links
Featured Artists