Back to List
Recordings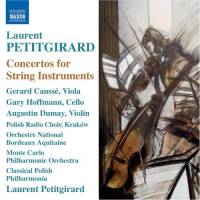 PETITGIRARD: Cello Concerto / Le Legendaire / Dialogue
Dialogue for Viola and Orchestra (2002) is dedicated to Jesse Levine who played as a soloist for the première in Mulhouse ( France ) on 9 May 2003. More than just a work for soloist accompanied by an orchestra, it is conceived as a continuing dialogue, in fact as a chamber music piece, but with a large symphony orchestra. Dialogue for Viola and Orchestra was commissioned by La Filature, Mulhouse and Jesse Levine.

The Concerto for Cello and Orchestra was given its première by Gary Hoffmann on 9 December 1994, at the Salle Pleyel, and unlike most of my works, it is not programmatic. Its only subject is the exaltation of this marvellous instrument which can say everything, especially when Gary Hoffmann is there to make it sing. The paradox of life has exerted its influence on this work, which has no trace of a programme, so that it darkens in the last movement, owing to the sudden disappearance of my dear friend Philippe Guilhaume. I do not want to make any aesthetic comments on this music. I write what I hear without trying to define any criteria other than emotion and rhythm. That is why this concerto is dedicated to Marcel Landowski, the freest of our illustrious elders.

Composed in 1983-84, Le Légendaire, a concerto for violin, chorus and orchestra in one movement, concentrates on the confrontation, and then on the communion, between the violin on one side and the chorus and the orchestra on the other. The choral text is in Esperanto. Some twenty words are used, taken from this language, that touch upon the idea of legend. It is an assemblage of concepts but in no way a true story. The " Légendaire " is the one who comes from somewhere else, whether he be Peter Pan, E.T. or Buddha. He visits men, encounters war, delivers a message of peace then leaves, like in the legend, " Mel Legendo ". It is the story of a visit. Le Légendaire had its première during the Festival de Flaine on 19 August 1986, with Augustin Dumay, to whom the Concerto was dedicated, with the orchestra and the chorus of the Festival conducted by the composer.
Related Links
Featured Artists