Back to List
Acclaim
The Magic Flute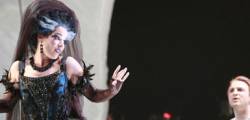 No more cuddly bears, no more writhing pythons, no more snow-white doves. Nicholas Hytner's iconic production of The Magic Flute, which has served English National Opera so well for nearly two decades, is packing up its birdcages and its great walls of hieroglyphs, and fading into the ether of the imagination. So roll up, roll up to this final revival (robustly directed by Ian Rutherford) before the gentle Amish brotherhood, the benevolent Sarastro and the dark and twinkly Queen of Night vanish for ever.

The new Papageno is not to be missed. Roderick Williams, one of the most versatile and intensely musical baritones in the business, is an irresistibly personable bird catcher. He has thought the role through in detail and made it his own, with tiny, feathery movements, an eye as sharp as a blackbird's, and a bundle of nerves that make him as touchingly vulnerable as any of his feathered friends.

Encumbered only by a superimposed and somewhat confused mid-Pennine accent, he hugs his bells and his sandwiches protectively to himself, and stands in numb and incomprehending wonder at the mysteries of life that are beyond his bird-brain. His is a heart-wrenching fear of being trapped in silence. And his suicide attempt is both horribly plausible and hilariously improbable - just as Mozart surely intended. His baritone is in its prime: a true Mozartian nightingale of a voice whose enunciation, alone of anyone else on stage, makes the surtitles superfluous.

Susanna Andersson, also new to her role of Papagena, is a tea lady with a hint of the Absolut vodka in her voice: the Swedish lilt and the dazzling blonde beauty inside the crone are no less than this Papageno deserves. Andrew Kennedy and Sarah-Jane Davies return to the roles of Tamino and Pamina, ever more royal of mien, and ever more expansive of voice. They are both valiant and feisty: Pamina as she faces the threat of Monostatos, a classic cameo performance from the ENO veteran Stuart Kale; and Tamino as he confronts the awesome Speaker of the young bass Matthew Rose - surely a fine Sarastro in the making.

The American soprano Heather Buck is quite a find as the Queen of Night: statuesque of bearing, surefire in the vocal stratosphere, and a powerfully ambiguous presence. Sarastro is very much the father-figure of his community here, and Brindley Sherratt, while he certainly has all the notes, is not quite great enough of heart. This is a stern, tight-lipped reading whose lack of expansiveness occasionally deprives the voice of adequate musical ballast, especially in the brisk tempos of Martin André, the conductor. But André propels the action compellingly enough to its great final sunrise of enlightenment.
—
Hilary Finch,
The Times (London)