Back to List
Acclaim
Buck is back for 'Magic Flute'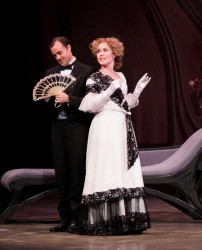 Heather Buck, one of the shiniest gems in the Florentine Opera's sparkling "The Merry Widow" in 2007, is back.
Buck, a brilliantly flirtatious Valencienne in Lehar's "Widow," will be the Queen of the Night in Mozart's "The Magic Flute" on Friday through Sunday.
The Queen is among the most volatile and enigmatic characters in Mozart's last opera, a not entirely logical fairy tale steeped in Masonic symbolism. Buck's character starts out as an apparently benign figure who sends Tamino, the hero, on a noble quest. Late in the opera, she shows her true colors when she enlists her own daughter in a plot to murder the scary but wise Sarastro.
The Queen reveals her intentions in what is now called the Queen of the Night aria, one of the most spectacular and taxing displays of dramatic coloratura in all of opera. This aria, like the whole opera, is very much open to interpretation. It can work for very light voices or it can be nearly Wagnerian in its weight.
"The challenge is not just in the technique, but in finding some fire within her," Buck said.
"She's a freak. But she believes deeply in what she's doing. She knows her repertoire of psychological instruments."
Buck has sung the Queen in 10 varied productions, but she noted that all had at least one thing in common: At the point of this pivotal aria, the Queen realizes that her plans for Sarastro's downfall have gone massively awry.
"She has to try something outside her usual means. She has to use her own daughter as a pawn."
Buck would have the moment inform her singing.
"I'm not Minnie Mouse," she said. "There's a little more meat on my voice.  . . . The desperation in the Queen has to come through. I try to sing it with the whole body."
Buck, 37, grew up in California and Westchester, N.Y. She and her three siblings all took to piano lessons. They moved on to other instruments; only Heather turned to singing. Her parents took her to some Broadway musicals, and that was it for her. She wanted to be a Broadway star.
"But I was always packed off to the chorus in the high school musicals," she said.
Her first voice teacher introduced her to Italian popular songs in the operatic manner, "O Sole Mio" and the like. She felt an affinity for them and pursued her singing while studying music at Tufts University and visual art at the School of the Museum of Fine Arts, Boston.
She finally got a lead, as Dido in Purcell's "Dido and Aeneas," and that helped to tilt her to music instead of art upon completion of her double major. She moved on to Yale University's graduate opera program.
"I was so green, I hardly knew anything about opera," Buck said. "Yale was the best possible program for me. It was very small, so I got to perform a lot. By the end of graduate school, I knew I wanted to at least give it a shot."
Her career advanced in baby steps until 1997, when she was about to leave for the Aspen Summer Music Institute. Her New York teacher urged her to be open to any job that came her way, no matter how daunting. The next day, Aspen called. Because of illness, the principal role of the Maid had opened up in the premiere of Thomas Ades' "Powder Her Face." Accepting it changed her status from paying student to paid artist.
"Then I picked up the score," she said, "and it was, 'Oh, my God, what did I get myself into?' Even though it made me cry, and it turned out to be a great thing for me."
She learned the role in six weeks. Both she and "Powder Her Face," by consensus the most important new opera so far in the 21st century, had great successes in Aspen. Buck subsequently appeared in "Powder" in New York and London and on British television.
"That put me in a different bracket," she said. "I like learning new music - it brings out my inner nerd.
"I'm still learning. I have a long way to go, and I'm so happy to be a student of singing and acting."
—
Tom Strini,
Milwaukee Journal Sentinel