Back to List
Acclaim
'Proserpina' making U.S. premier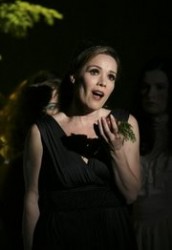 Something special is happening in Charleston: a tour de force performance in a brand new work having its American premiere during Spoleto Festival USA 2010.
Make no mistake, "Proserpina" would not be heard by local audiences if it weren't for the adventurous spirit of the festival's artistic staff. It is a production only Spoleto can mount here -- and it is a chance of a lifetime.

Here's why.

The opera, by German composer Wolfgang Rihm, is about an hour long and based on Johann Wolfgang von Goethe's monodrama, meant to be performed and accompanied by incidental music. Goethe, the great German writer who helped define the Romantic style and who was interested in reviving the ancient Greek and Roman myths, provided the inspiration for Rihm to write his update of the poet's update.
The fates abduct Heather Buck as Proserpina in Proserpina at the Memminger Auditorium.

Rihm's opera, written for German singer Mojca Erdmann and debuted in 2009, is scored for chamber orchestra, coloratura soprano and women's chorus. It is a monologue subtly divided into 16 sections, at once modern and lyrical, with hints of Strauss, Beethoven, Berg and Stockhausen (Rihm's teacher).
Heather Buck, a 38-year-old American soprano, is only the second person to tackle the role. She's performed at the Spoleto Festival twice before, nine years ago in "Dido and Aeneas" and three years ago as the Angel in Pascal Dusapin's "Faustus, the Last Night."
That latter work was conducted by John Kennedy, the festival's longtime contemporary music impresario. Kennedy heard all the buzz in modern music circles about Rihm's new opera, its extremities of range, its revived classicism, its motifs and melismas, its expressive lyricism and tumultuous emotions, and he thought: We could do this, Heather Buck could do this.
"She is a very special artist in that she is impeccable in her performance and preparation," he said. "She is beyond musical but also emotionally communicative."
It took six months for Buck to learn the part. The range is from a low A-flat to a high E, and the vocal line rarely stays in one tessitura. It's terribly difficult.
"I try not to think of the modern music I'm learning as 'terribly difficult,' " Buck said.
Rather, she conceived of "Proserpina" like abstract art containing its various elements and gestures, then approached the music one section at a time, one phrase at a time.
She said she played the vocal lines on a small electronic keyboard that then played back the phrases over and over again.
"Eventually, things started sounding like melodies," she said.
Soon Buck began to understand the composer's language, his musical references, his emotional intent. She worked the vocal phrases into her voice like fabric absorbing dye, little by little, systematically, until muscle memory took hold and she could begin to think about gesture and expression and dynamics and character.
Between rehearsals, Buck spends a lot of time with her nose in the score, reviewing Rihm's elegant phrases and all her scribbled notes about blocking and motivation and gesture, she said.
The Spoleto team -- Kennedy, director Ken Rus Schmoll, producer Nunnally Kersh, general director Nigel Redden -- has been very impressed with Buck's professionalism, they say. Even in rehearsal she invests 150 percent. Tell her something one time and she remembers it.
Buck, who studied visual arts and once loved to model clay into human busts, and who became serious about her singing while a student at Yale University, said she tries not to get too intellectual about the opera. Proserpina is a mythical goddess surrounded by the Danaids and Furies who worship her and call her Queen, but she's also an unhappy woman.
"I rule over you, and for that I am more wretched than you," Proserpina sings. "Send me into the all-destroying pain."
And it's an exciting opportunity. Buck said her parents and husband will be coming to Charleston for the occasion.
"This is a really big chance to do something special," she said.
Her first professional singing gig was in 1996. She was paid $200 to sing the solo in Handel's "Messiah," performed in the Bronx. She also had to sing all the choruses.
Fifteen years later, Buck has mastered 45 coloratura roles spanning many musical styles and eras, attesting to her vocal and intellectual agility.
When she's not singing, she spends time on Fire Island with husband Peter McGough, a banker, and cooks for friends.
Professionally, Buck has forged her own path. She did not attend a famous conservatory, she was not "discovered" by anyone, and she did not emerge into the classical music world through a young artists program.
She worked hard, studied abroad and seized opportunities.
Now she's back in Charleston singing the most difficult role of her life, perhaps the most demanding role she will ever sing.
—
Adam Parker,
Charleston Post and Courier