Back to List
Acclaim
Lyric's 'Tristan' soars on Voigt's golden wings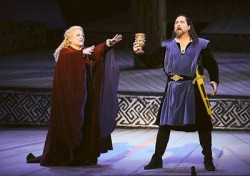 Richard A. Chapman/Sun-Times
There are reasons they call it grand opera. And some of the best were on display Tuesday night when Lyric Opera of Chicago opened its mesmerizing production of Wagner's "Tristan und Isolde.''
Primary among them was Deborah Voigt, whose combination of golden-toned, full-bodied singing and luminous beauty has made her the opera world's Isolde of choice. As Tristan, American tenor Clifton Forbis was equally fine, bringing a dark-hued but ringing tone and passionate involvement to one of opera's most punishing roles. Sets and costumes, designed by David Hockney in 1987, surrounded the two lovers with bold colors and stylized images of a forest and sailing ship.
And at the helm of this lushly romantic, four-hour-plus operatic marathon was Andrew Davis, Lyric's music director. Given the masterful pace he set with Lyric's excellent orchestra and his attention to lovingly shaded detail, it's difficult to believe that he was conducting "Tristan'' for the first time.
Voigt made her debut as Isolde in Vienna, Austria, in 2003, and she has absorbed the role into her very bones. Vocally, she was superb, her gleaming soprano expressive and big, unforced and capable of easily sailing over the orchestra even at its most frenzied moments.
She was always a gifted actress, but with her slimmer physique, Voigt makes those gifts even more evident. In Act I, her Isolde was not simply a distraught princess facing a loveless marriage and the indifference of Tristan, the knight whose life she once saved. She was a power to contend with, confident and shrewd.
Forbis was a worthy match for Voigt's incandescent Isolde. His tenor, though flexible and agile, had a dark grain that gave his Tristan unusual depth. The knight describes his tragic past in the opera's final act, and Forbis' telling of the tale was searing. But even at the height of the lovers' happiness in Act II, the darkness in Forbis' tenor hinted at sorrows past and future.
Singing King Marke, the sovereign grievously wounded by the liaison between his young wife and his dearest friend, Danish bass Stephen Milling made a strong Lyric debut.
As Isolde's handmaiden Brangane, German mezzo-soprano Petra Lang, also making her Lyric debut, was less impressive. Her acting was slightly stiff, and her voice sounded monochromatic. Another Lyric newcomer, American baritone Jason Stearns, was noble and warmhearted as Kurwenal, Tristan's comrade.
"Tristan'' can be a static opera, but stage director Jose Maria Condemi deployed the singers well. Hockney's setting was less atmospheric than the "Tristan'' designed by Alison Chitty in the 1999-2000 season.
That is a minor quibble, however. At a time when the notion of luxury is under siege, Lyric's "Tristan'' makes a strong case for the necessity of certain luxuries. At its best, opera takes us to another world, and in "Tristan,'' that world offers music that stirs the heart and a story that allows us to contemplate the nature of friendship and honor, romantic love and obsession. The composers, librettists, musicians, artists and opera companies who make this all possible are luxuries we can ill afford to lose.
—
Wynne Delacoma,
Chicago Sun-Times