Back to List
Acclaim
Less ham, more Hockney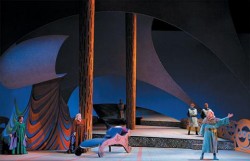 When staging Wagner's mammoth 1859 opera Tristan und Isolde, directors have faced a dilemma: Do they allow the 655-page musical score's teeming drama to speak for itself, or do they enhance the glacially paced work through brave experimentation? In 2004, The Tristan Project--spearheaded by conductor Esa-Pekka Salonen, director Peter Sellars and videographer Bill Viola--took the latter route, projecting surreal, slo-mo images behind Wagner's ecstatic lovers to give audience members something extra to take in during the almost five-hour epic.
Freelance director José Maria Condemi, who helms Lyric Opera's current production, isn't as keen on incorporating foreign devices. That's because he has artist David Hockney's abstract 1987 set designs to complement the sorcery of the Bayreuth composer. "His visuals pretty much dictate the style of the production," the quick-talking Argentine tells us backstage at Lyric during a brief rehearsal break. Hockney's lustrous designs, surmises Condemi, are what Wagner would have wanted.
Hockney--who has no active role in this production--took the folk tale at face value. His settings and costumes, in bold primary colors, look archetypically medieval European. The simple, two-dimensional layers seem blown up from the pages of a children's pop-up book: The floors fade into the horizon, pinched into a cobalt sky; a ship deck eerily trails off infinitely like the Yellow Brick Road, its sheen faded from 21 years of being toted around the world's stages.But the true genius in Hockney's sets requires proper illumination. Lighting designer Duane Schuler promises hulking beams (5K Fresnels and 4K HMIs, for you techies) to splash the British Pop-Art painter's scenery in big, bold strokes. Vari-Lite technology, a tilt-and-pan system used mostly for rock concerts, will also be used.
When Wagner appropriated the ancient Celtic legend for his opera, it was a convoluted mess "like Harry Potter," according to Condemi. Countless subplots, two characters named Isolde and an überfantastical air muddled the source material. Like Wagner, Condemi simplifies it so that the music takes center stage. The thirtysomething director argues that less isn't just more in Tristan but its very essence.
"Lay bare! Lay your hands bare!" the director shouts to soprano Deborah Voigt (Isolde) and tenor Clifton Forbis (Tristan) as they slowly turn to each other, practicing the transformative Act I love-potion scene. Condemi blocks his actor-singers like a veteran theater chief, yet the South American acknowledges that his singers frequently feed him ideas when he runs out of his ow--a remarkable admission given the egotism that pervades the industry. "The work of a director is to distance himself from the production and also imagine what the audience sees," he says. "Break it apart, break it down, step back and then ask yourself, 'What do I need to change?'"
—
Bryant Manning,
Time Out Chicago