Back to List
Acclaim
Latin-inspired 'Ainadamar' riveting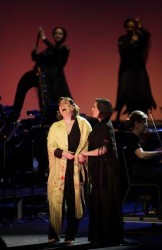 The Enquirer/Michael E. Keating
"Spain is a bull that is burning alive," sings Federico Garcia Lorca in Osvaldo Golijov's striking new opera "Ainadamar" - "Fountain of Tears" - in its Cincinnati Opera premiere on Thursday.
Powerful, haunting and exquisitely crafted, the 90-minute opera tells the true story of the Spanish poet and playwright, who was executed at Ainadamar by Fascists in 1936. But its main character is Lorca's muse, the Catalan actress Margarita Xirgu, who has kept his work alive for four decades. She is about to go onstage for the last time in the leading role he wrote for her, Mariana Pineda, a revolutionary martyr of a century earlier.
Cincinnati Opera presented a new concept, directed by Jose Maria Condemi, which placed the orchestra onstage, rather than in the opera pit. The evening unfolded as a hybrid of concert and music drama, and it emphasized that in the end, this work is truly mesmerizing for its music.
It was an artistic triumph, and one of the most riveting musical experiences this city has ever witnessed.
Golijov's music is a rapturous tapestry of Spanish rhythms, gypsy flamenco and even Sephardic and Arabic melodies. The opera opened with a soundscape of water, horses hooves and a spectacular cadenza for percussion (Gonzalo Grau played bongos, an Afro-Cuban shaker and a cajon), followed by the folk-like "Ballad of Mariana Pineda" sung by an ensemble of young women.
A chamber-sized Cincinnati Symphony Orchestra led by Miguel Harth-Bedoya, was center-stage, with batteries of percussion, two flamenco guitarists and a "laptop player" for special effects arrayed on the outside. The orchestra played superbly.

The cast danced and walked through the orchestra, as well as on risers behind the musicians. The backdrop was atmospheric lighting of an ever-changing sky. The director's touches included adding the child Lorca.
Sung in Spanish, the piece is divided into three dreamlike "images," including Margarita's flashbacks to her first meeting with Lorca in a bar, and later trying to entice him to escape with her to Cuba.
As Margarita, Dawn Upshaw was magnificent in the role that Golijov created for her. "Look at my eyes, they have poured rivers of tears," she sang, reaching into the depths of her soul and soaring with silvery beauty into the stratosphere. Her long-breathed melodies were beautifully colored, cantorial-like, and tinged with pathos, often accompanied only by flamenco guitar.
Lorca is a "pants" role, and mezzo Kelley O'Connor cut a charismatic figure and projected a rich, arresting voice. In one of the evening's most beautiful moments, Margarita begs Lorca to flee with her to Havana in a carefree, sensuous duet.
Margarita passes on Lorca's legacy to her student, Nuria, sung with great beauty by Jessica Rivera.
Jesus Montoya, as Lorca's killer, delivered heart-stabbing cries in the "cante jondo" style -- flamenco's "deep song." Lorca's execution was a flamenco fugue of gunshots, that seemed to ricochet through Music Hall.
The ensemble of eight women, dressed in black, danced, sang and lamented "What a sad day it was in Granada," and we were left with the sounds of the fountain.
Balance in this configuration was not always ideal. At times the orchestra overpowered the singers, even though they were amplified.
—
Janelle Gelfand,
Cincinnati Enquirer