Back to List
Acclaim
Grading Gockley's San Francisco Opera 2009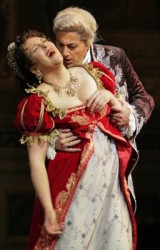 Cory Weaver photograph, courtesy of the San Francisco Opera
Grade A+
Tosca (Puccini) - In June, the San Francisco Opera triumphantly mounted Puccini's popular opera about an 18 hour period on a specific day in the life of Rome in the year 1800. Few operas are so specific as to their time and place and so unforgiving of the concept producer who likes to see a story line unmoored from any timebound reference point.
San Francisco Opera played "Tosca" absolutely straight with a power cast, led by two debuting artists - Adrianne Pieczonka (Tosca) and Lado Ataneli (Scarpia) and produced a magnificent reading of the score.
Carlo Ventre again displayed the large spinto voice required for the great tenor roles of Verdi and Puccini. Stage Director Jose Maria Condemi demonstrated that one can follow Puccini's stage directions closely and still can approach the work imaginatively.