Back to List
Acclaim
A 'Karenina' à la Graham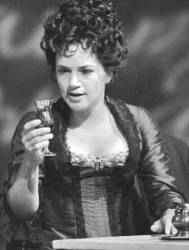 ST. LOUIS - Artistic director Colin Graham, for 29 years a fixture at Opera Theatre of St. Louis as director of productions, is a conspicuous absence this summer. After a distinguished career including collaborations with Benjamin Britten and stage-directing gigs at the Met and in Chicago, San Francisco and Santa Fe, N.M. Mr. Graham died in April at age 75.

But his spirit lives on in the libretto and production he conceived for a new opera based on Tolstoy's monumental novel Anna Karenina. With music by American composer David Carlson, the opera was commissioned by Florida Grand Opera and premiered in April in Miami. St. Louis is getting the second run of the opera, which next goes to Detroit's Michigan Opera Theatre.

In a cinematic sequence of vignettes, Mr. Graham's libretto counterpoints the destructive love triangle of Alexei Karenin, Anna Karenina and Alexei Vronsky with the late-blooming relationship between Konstantin Levin and Kitty Scherbatskaya. As staged by Mr. Graham's assistant, Mark Streshinsky, the results are certainly dramatically arresting. They would be even better with some trimming of the libretto's philosophizing clichés, especially at the end.

Mr. Carlson's musical language might be labeled Debyusky, Russified impressionism: surprisingly voluptuous rustles and cascades and washes of sound sometimes punctuated by tangy, pulsing winds. One doesn't walk out humming tunes, but the vocal writing is gracious. Anna Karenina is yet another musically retro American opera, but it's one of the more satisfying of the newer crop.

With the same principal singers as in Miami, the cast is superb - and by now well-steeped in the opera. Kelly Kaduce's performance in the title role is a tour de force. She captures Anna's every nuance, from frustrated propriety to foolhardy infatuation to morphine-fueled disintegration, all the while singing gloriously.

Robert Gierlach doesn't have the sex appeal for the homme fatal Vronsky, but he supplies a well-formed bass-baritone. As the emotionally twitchy country squire Levin, Brandon Jovanovich sings powerfully and elegantly.

William Joyner is sonorously persuasive as the likable philanderer Stiva. With a handsomely brassy (if not always perfectly tuned) bass-baritone, Christian Van Horn is the very personification of Karenin's chilly decency. Sarah Coburn and Christine Abraham are attractively engaging as the sisters Kitty and Dolly. Even slighter roles are well cast: Josepha Gayer as Betsy, Dorothy Byrne as Lydia, Rosalind Elias as Agafia.

With a minimalist unit set of receding arches, designer Neil Patel works scene-shifting wonders with furnishings scooted on and off concentric turntables. Robert Perdziola supplies plush costumes appropriate to the mid-19th-century Russian milieu.

Knowingly led by Stewart Robertson, the orchestra mostly played well Wednesday evening, but violins were occasionally untidy.
—
Scott Cantrell,
Dallas Morning News