Back to List
Acclaim
'La Bohème' again, but memorable at Opera Pacific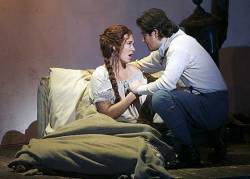 "La Bohème" was given its U.S. premiere 110 years ago this month, in Los Angeles no less. The fact wasn't noted in Opera Pacific's program booklet Wednesday when the company performed it to open the season because it didn't need to be. This was no commemoration.

"Bohème" is never far from our operatic stages; it is difficult to see it afresh. Its combination of comedic high spirits with tender, tear-jerking sentiment must have struck that first L.A. audience as unusual. We all know what's coming by now. But it probably doesn't matter and even explains at least part of the opera's huge popularity. Most people love a good weeper, and "Bohème" remains a machine in that regard, a guarantee. Start it up and it takes you there.

Opera Pacific certainly got it revved up nicely. The cast was a good one, headed by a rising American soprano, Kelly Kaduce, who proved worthy of the fuss. The production, first assembled for New York City Opera, doesn't look cheap. The direction, by Michael Scarola, is something to celebrate. And in the pit, an old hand, Edoardo Müller, conducts with the expertise of a surgeon applying the scalpel. The audience didn't stand a chance.

The action here begins not on Christmas Eve 1830 as in the original, but in 1914. War, of course, has just broken out in Europe. But don't look for any stark revisionism. The updating is mostly decorative in nature, though soldiers stack coffins in the train yard in Act Three and the Bohemian boys don military garb in the finale. It snows early and often in this "Bohème," and some people thought the flakes looked like ashes, but that was no directorial ploy.

Scarola is a sensitive, meticulous hand with the stage business. It never looks fussy, but there's a lot of little details in the action. His source for much of it seems to be the music itself - that is, the musical impulses emanating from the pit are mirrored by the actors to a degree that they (the impulses) become something like a tone poem, or film score, for the motions onstage. One could go overboard with this kind of thing, but Scarola doesn't. If the busyness in the Act Two street and cafe scene was a little hard to follow, well, it usually is. The stage transition between Acts One and Two, by the way, is handled with seamless creativity.

Müller, a regular down at San Diego Opera for many years, was conducting in place of John DeMain (who is currently on duty at Washington National Opera preparing a production of Bolcom's "A View from the Bridge"). Müller must have conducted this work a few times in his day, but he's apparently not tired of it. Rarely have I heard it done better. The instrumental colors were softly vibrant, the textures clear but luminous (I heard things I'd never heard before) and the pacing was patient, even luxuriant, but never slack. The audience clapped over his big moment in Act Two. Wait for it next time - he did.

Kaduce is a Mimì to reckon with. She knows just when to give her richly toned voice the gas and when to lay back - there was a great deal of variety in her phrasing. Her death scene was tenderly, exquisitely done, both Müller and her in rapt pianissimo. Kaduce has a confident stage presence, too. She'll be one to watch.

Arturo Chacón-Cruz provided a solid and likable Rodolfo, a little dry in tone perhaps and better at the big singing than the small, but certainly able to hold his own. James Westman supplied a burnished and eloquent Marcello, Meghan Monoghan a pretty, if underpowered Musetta. Lee Gregory (Schaunard) and Andrew Gangestad (Colline) were lively compadres - these guys have a rich fantasy life - the latter supplying a quietly distinguished account of the song to an old coat ("Vecchia zimarra").
—
Timothy Mangan,
Orange County Register