Back to List
Acclaim
Scaling new depths in opera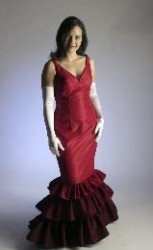 Tom Sweeney, Star Tribune
Kelly Kaduce, who grew up in Winnebago, Minn., and graduated from St. Olaf College, returns to her home state to sing the title role in Minnesota Opera's production of "Rusalka," which opens Saturday. Antonín Dvorak's opera is a "Little Mermaid" story, but with a tragic ending. Kaduce (kah-DEUCE) last appeared with the Opera in "The Grapes of Wrath" in February 2007. She also sang "Madame Butterfly" with the Opera and was Mimi in 2002's "La Bohème." She has performed in Boston, New York, Los Angeles, Santa Fe and St. Louis, among other venues. We tossed her five questions -- by e-mail because she was trying to protect her voice.

Q I understand your voice is so tender right now that you prefer to not even speak for an interview. What rules do you have for yourself? Just a free tip: tenor James Valenti said hot ginger water is good.

A Well, the rules change depending on the condition of my health and the climate. Right now, being in Minnesota at the tail end of winter when the heat is still being used, moisture is key for me. Humidifier, steam and lots of water. No caffeine or carbonated beverages. Probably the rule that stays true no matter what the conditions are is lots of consistent water intake. I have heard about ginger. James is right. It is a natural anti-inflammatory.

Q Are you the pondering type who muses on how a girl from Minnesota farm country ends up at the New York Opera? Or is your career too busy for the luxury of nostalgia?

A If you would have told me as a child that I would be a traveling opera singer, I would have been excited beyond belief. I didn't have aspirations to sing opera when I was young, but I loved singing more than you can imagine and I had dreams of traveling the world and meeting all sorts of people. In a sense I have fulfilled my fantasy. So yes, I do find it a bit remarkable that I, coming from a small town of about 1,500 people, have found myself at places such as New York City Opera or the Met stage. My career is busy, but since I live out of my suitcase, I like to hold onto memories of my home. It helps me feel connected to something greater than myself.

Q You sang at your alma mater recently. Was it in any way frustrating as a member of the St. Olaf Choir to have to fit into an ensemble rather than show off your self?

A I was not in the St. Olaf choir. I sang alto in the Cantorei choir. I didn't find it frustrating. I suspect I was encouraged to sing alto because I was quite loud and often times I was stuck toward the back. At the time, I wasn't totally sure of my "solo" career. It wasn't until after my sophomore year that I switched to a voice major. My initial plans were to be a physical therapist. I was not very good at biology, but it turns out I was quite good with music. Also, I think singing harmony all those years in choir helped with my musicianship.

Q What was your favorite musical role in high school?

A I would have to go with Annie in "Annie." That was my debut role in fourth grade (I think) at the Winnebago Community Players. I had seen the movie, I owned the record and knew every song by heart. My mom helped me prepare two songs for the audition and played for me. I got the part! I was so excited. My mom cut and permed my hair for the role. We even tried a temporary dye, that ended up not working. What if I had known then that my life would continue in the same vein?

Q How much fun was it to originate a new role with "The Grapes of Wrath?"

A I find it invigorating. It is a whole new approach to studying a role when there is no musical history. At times your creativity runs wild with ideas and other times it is stunted because there are no previous recordings to reference. But mostly, I find a freedom. Particularly with the "The Grapes of Wrath," I felt like I was part of something grand, something much larger than myself. It was a piece of American history that we were bringing to musical life, and that doesn't happen very often in opera.
—
Graydon Royce,
Minneapolis Star Tribune