Back to List
Acclaim
Madame Butterfly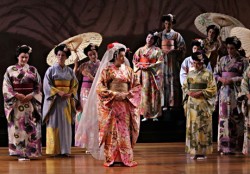 There are good reasons for the enduring popularity of Giacomo Puccini's "Madame Butterfly," including a timeless story and beautiful music. Opera Theatre of St. Louis' production provides still more.

On Thursday night, Opera Theatre gave the tragic opera an outstanding ensemble of singers and placed it in a beautiful, simple production. Led by soprano Kelly Kaduce in the title role, the cast made the story and music come alive. There wasn't a vocal or dramatic weak link.

Opera Theatre performs "Butterfly" in the Brescia version, the composer's second try at the score. There are good reasons to do the standard version of the opera: It's tighter dramatically and has superior musical elements. Brescia also makes the character of Lt. Pinkerton even less sympathetic than he usually is, descending at times to outright caricature.

It's hard to imagine a more sympathetic Cio-Cio San than Kaduce, though. Her voice is warm, beautiful and evenly produced throughout its wide range, and her high notes soar effortlessly. The arc of her character development was perfect, from the shy 15-year-old of the first scene to the woman who chooses to die with honor in the last. This was a performance to cherish.

Mezzo-soprano Jamie Barton was a sensitive, supportive Suzuki who made every glance and gesture meaningful. Her voice is a gorgeous, mellow instrument. She and Kaduce blended perfectly in the Flower Duet.

As Pinkerton, David Pomeroy tackled the challenge of playing a thorough cad head-on. Pomeroy has a strong, ringing tenor, and he looks the part of the heartbreaker. Baritone Lester Lynch, a former Gerdine Young Artist, offered a rich voice and a compassionate persona in the role of Sharpless, the American consul in Nagasaki.

There was good work from the supporting cast and chorus, particularly tenor Daniel Fosha's sly marriage broker, Goro, and baritone Elliott Madore as the vain, much-married Prince Yamadori.

Mezzo-soprano Lindsay Ammann's rich-voiced Kate Pinkerton made me want to hear more. Young Ethan Leslie, in the supernumerary role of Butterfly's child, was appealing, although tall, for the role.

Conductor Tim Long scored a solid success in the pit, leading his singers and the St. Louis Symphony with feeling, accuracy and singable tempos.

The original staging was by Opera Theatre's longtime artistic director, the late Colin Graham, here realized by E. Reed Fisher. Graham had an unusual feel for Japanese culture, and the production reflects that in everything from the characters' way of walking to their gestures.

The translation, by Opera Theatre's director of communications, Margaret Stearns, was both clear and highly singable.

Neil Patel's sets are simple and elegant, with movable screens that work well for scene changes. David C. Woolard provided lovely, authentic kimonos. It's too bad he wasn't as accurate with his American naval uniforms.

Tom Watson's wigs and makeup were of his usual high standard. Robert Denton's lighting left Butterfly in the shadows at some odd moments, but most of it was nicely judged.

If you've ever thought you'd like to see "Madame Butterfly," this production provides a perfect opportunity to catch a first-rate cast in a superb production. Don't miss it.
—
Sarah Bryan Miller,
St. Louis Post-Dispatch