Back to List
Acclaim
Saint Louis Muse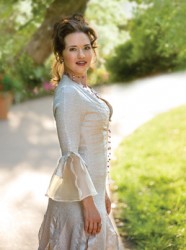 Opera Theatre of Saint Louis has prided itself on its sense of ensemble ever since its first season, in 1976: there are officially no stars here, although the company's annual collection of the best young singers available has fielded plenty of stars in the making. Anyone familiar with OTSL has heard the long, impressive litany of artists who had early career successes there before hitting the big time in major theaters: the list includes Susan Graham, Nathan Gunn, Patricia Racette, Thomas Hampson, Jerry Hadley, Dawn Upshaw, Sylvia McNair and Dwayne Croft. But the names that company regulars truly savor are the singers who've returned season after season, building OTSL's reputation for exciting work over thirty-two years. Christine Brewer, Sheri Greenawald, Phyllis Pancella and Erie Mills are among the artists who have come to exemplify the world-class combination of musical and theatrical values envisioned by OTSL founder Richard Gaddes and maintained by the company's longtime management triumvirate of general director Charles MacKay, artistic director Colin Graham and music director Stephen Lord.

Soprano Kelly Kaduce, whose Cio-Cio-San this summer marks her fourth OTSL appearance, bids fair to be the latest artist in this select group. After one of her performances last season in Anna Karenina, Kaduce was greeted like a star when she walked into the tent where cast members mingle with the OTSL audience after the show. Several performers were met with enthusiastic applause: when Kaduce arrived, slim and radiant in a short white summer dress, she got a standing ovation.

Kaduce made her company bow in 2004, with a searing performance of Puccini's Sister Angelica -- sung in English, as all the company performances are -- paced by OTSL's Lord in a production that tested the young soprano's capacity for risk-taking. As Kaduce remembers it, "When I finished singing my audition for Angelica, Stephen said, 'That's great -- you're perfect. How do you feel about nudity?' And I said, 'Whaaaat? What do you mean, maestro, 'How do I feel about nudity?' Aren't I playing a nun?' Stephen knew that the director, Stefano Vizioli, had this really out-there concept: his Angelica went a little bit crazy when she found out that the kid was dead, and she mocked breastfeeding the child. And I thought, 'All right. Let's see what happens.'" What Kaduce, Vizioli and Lord achieved was dazzling: Angelica's madness was charged with heart-stopping joy, as she imagined herself reunited with her dead child. When Kaduce held out her arms to embrace a baby that only she could see, I was moved to tears by the purity and honesty of the dying girl's emotion.

I first met Kaduce ten years before that Angelica, when I was a stage director for the College Light Opera Company in Falmouth, Massachusetts. She was then in her late teens, still an undergraduate at St. Olaf College, in her native Minnesota. Even though Kaduce arrived at CLOC with almost no stage experience, her eager, buoyant energy and sharp sense of humor allowed her to thrive in the grueling nine-shows-in-nine-weeks schedule of genuine summer stock. Her comic instincts were impeccable, her sense of daring exhilarating -- I still remember her Mad Margaret, barking like a dog as she frisked on all fours through the picture gallery in Ruddigore Castle -- and her singing was consistently poised and expressive, whether she was singing a leading role or taking on one of the Market vendors' cries in Kismet. Her sweet, amber-ish timbre classed her as a mezzo in those days, but within a few years Kaduce had moved up into soprano territory. The striking warmth of her voice now gives it a healthy glamour that most sopranos operating in her lyric Fach lack.

I kept track of Kaduce's progress from afar in the years after that -- her shift into soprano roles, her master's degree studies at Boston University and, in 1999, a win in the Metropolitan Opera National Council auditions that she credits with kicking off her work on the U.S. regional circuit. Kaduce worked to establish her lyric-soprano credentials as Mimì, Faust's Marguerite and other "nice little girls," as she calls them, over the next few seasons.

In 2003, she was cast as one of the replacement Mimìs in Baz Luhrmann's high-profile Broadway La Bohème. "I actually signed a contract to do it on Broadway for a year, on and off, because it had multiple casts -- and then it closed two weeks later. I had been really nervous about taking it on. All of my opera friends had kind of been pooh-poohing it, you know? 'Oh, Kelly, it's just Broadway!' and that sort of stuff. I decided to risk it, but one of the smart things I did was not cancel any of my pending opera gigs to sign that contract. If I had, I would have been screwed, because two weeks after I signed on, no more Broadway Bohème. I did some performances in New York before it closed, and when the producers moved Bohème to L.A., I got to head up the cast there on the opening night [in Jan. 2004] and play it for a few months. I learned a lot, acting-wise, from doing that show. Baz Luhrmann was really demanding about the acting -- 'Why are you doing that?' Why that choice?' -- and I'd never experienced that from a director to that point before. I loved that production. I was sorry it didn't last a little longer."

Within a month of La Bohème's closing on Broadway, Kaduce made her Santa Fe Opera debut in Colin Graham's 2003 world-premiere production of Bright Sheng's Madame Mao. Kaduce calls her artistic relationship with Graham "probably the most meaningful I'll ever have. I got cast because I'd had some dance experience, and there was dancing in that opera. Colin liked actors to add things -- business -- in rehearsal. Not all directors are like that, but Colin really thrived on it. I remember one time in Madame Mao he asked me to go out laughing, and I did this wild, over-the-top crazy laughing, and he really liked it -- and he was generous enough to tell me so. He started to pay attention to me after that.

"The next thing I did with Colin was a revival of his Madama Butterfly at Minnesota Opera, which wasn't that long after I did Angelica in Saint Louis. At the time I was not old enough, probably, to be doing Butterfly, but I couldn't pass up the chance to work with Colin again. I was Cio-Cio-San in the second cast, so it wasn't too much pressure, but he still allowed me to add little things. He liked that about me, I guess. When we were doing the "Che tua madre" -- I can't remember the exact text in the Brescia version, off the top of my head, but at the place where Butterfly sings about having to go back to dancing in the streets, I did a fast little dance gesture that I had seen in one of the geisha videos I had been watching to prepare. And Colin said, 'Whhhhhhhhhhere did you get that? I love it! LOVE IT!'

"We never really talked before we arrived at rehearsals, but we both knew that the other would arrive really well-prepared. He knew -- probably from the first show that we did -- that I always do a lot of research before I start to rehearse a show, and he certainly did, too. When we started Madame Mao in Santa Fe, Colin sat down on the first day and gave us the whole history of China. In Jane Eyre rehearsals at Opera Theatre of Saint Louis [in 2006], he gave us a booklet of quotes from the actual novel that he was using for inspiration."

The 2006 OTSL Jane Eyre -- the U.S. premiere of Michael Berkeley's five-character fantasia on Charlotte Brontë's classic -- was to be the last new project that Kaduce worked on with Graham; their planned collaboration on the 2007 world-premiere production of David Carlson's Anna Karenina at Florida Grand Opera and OTSL was prevented by Graham's declining health. Graham completed the Karenina libretto but ceded directing duties to Mark Streshinsky and died shortly before the opera opened in Florida. "Colin was brilliant. I've tried to analyze what it was I liked so much about his style. He never got out of his chair, he never demonstrated, but he always gave you enough information to guide you in the right direction, so that whatever happened, you always felt as if it was your idea. It just came so naturally to him. I'm sad it's over. To me, Colin always seemed ready to give the play to the actors from the very first moment of rehearsal."

Despite the loss of Graham, Anna Karenina proved to be an apt vehicle for Kaduce's fierce prettiness and sharp, committed acting: few artists in any of Anna's countless adaptations have caught the title character's growing sense of despair with such truth and seeming spontaneity. The Carlson opera was one of several new works in the past few seasons that have featured Kaduce in a starring role: the others include Richard Danielpour's Margaret Garner (Caroline), Ricky Ian Gordon's The Grapes of Wrath (Rosasharn) and the U.S. premiere of Tan Dun's Tea: A Mirror of Soul. How does Kaduce feel about being typed as a "new music" singer? "It is a mixed blessing. When I'm doing these modern pieces, I spend so much time and effort and energy -- even when I'm performing them -- on counting, finding my pitch, counting the rhythms, and so forth, that I spend very little time thinking about technique. I believe that if I do too many roles like that I'm just going to block myself vocally -- I'm not going to be able to progress. What I've found is that when I return to something like La Bohème or even Madama Butterfly, I always seem to improve vocally. When I don't have to obsess about the counting and the pitches, everything else comes very naturally. I'm free to think more about phrasing, diction, things that help make the character really live.

"When I was in the first run of The Grapes of Wrath in Minnesota, Rosalind Elias was going over her text backstage and said to me, 'When I was young, I used to be so fearless -- but I don't find that anymore, now that I'm older. When you repeat a role, something in you releases.' I completely agree with her -- there is something that releases. If I do take on a new role in a new work now, I try to consider, 'Am I going to do this again?' Knowing I'll get a chance to repeat a role -- to really polish it and do it freely -- definitely makes it more appealing to me."

Kaduce is eager to sing her first St. Louis Cio-Cio-Sans in a theater she says she adores. "I love the thrust of the stage at the Loretto-Hilton Center -- you can look your fellow actors in the eye when you're singing with them. Stuff that I can do in St. Louis, which is a smallish house, I wouldn't necessarily be able to do at New York City Opera, which has a huge auditorium and a full proscenium. In St. Louis, for example, I can get away with more stillness and more subtle gestures, and subtle reactions to things. If I'm going to do something on a bigger stage, I'm obviously going to have to make stronger physical choices to carry the character all the way to the back of the hall. I might complete a gesture with my whole body, rather than expressing something just with my face."

Kaduce and her husband, baritone Lee Gregory, make their home in Texas, where Gregory's family is based. She spends a lot of time on the road, with regular engagements at Minnesota Opera, where she just won raves as Dvo?ák's Rusalka; Michigan Opera Theatre, set to welcome her first Pagliacci Nedda next season; Florida Grand Opera, which will present her first Countess Almaviva in 2009; and other U.S. theaters. She also has a growing number of foreign engagements on the horizon, among them Suor Angelica in Santiago, Chile, and Violetta in Malmö, Sweden. The key to her on-the-road sanity is "a healthy routine. When I get someplace, I unpack, I buy food, I find out what kind of workout I'll be doing when I'm there -- yoga, gym, running, whatever. I work hard to keep myself in shape, partly because of vanity, but mostly because it helps with the stamina I need for these long roles. Butterfly is supposed to look like a little girl, but she's gotta sing like a big one."

Kaduce's theatrical savvy, brains and beauty make her an exceptionally valuable commodity in today's media-conscious opera marketplace, but to date she has been largely absent from the roster of most larger North American companies -- a situation that is mystifying to those who admire her work, but which doesn't seem to bother her that much. "Sure, I'd like to sing at all the great 'A' companies of the world -- who wouldn't? We'll see if that happens. Right now, it's my job to concentrate on what I'm singing and how well I'm singing it. I really don't have much control over where I'm working. Let other folks worry about that.

"I'm a 'just do it' kind of person. If you've got good work, just do it. Don't complain about it."
—
F. Paul Driscoll,
Opera News