Back to List
Acclaim
Ho hum, another 'Boheme.' But not this time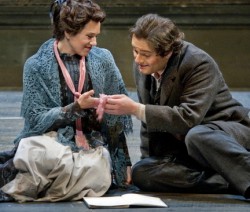 Brent Wojahn/The Oregonian
Putting on "La Boheme," one of the most popular operas in the world, isn't rocket science -- it's harder. All those expectations, all those memories, all that "show me" attitude. Well, Portland Opera showed us.
This "Boheme" is charming, tender and funnier than usual. The voices are vibrant and secure. The two leads are convincing as a couple, bringing chemistry and character to their short, unhappy relationship. And the other characters balance humor and high spirits with poignant sadness in Puccini's tale about youthful illusions that fade with the death of the little seamstress, Mimi. It is his finest opera.
No opera company in the world can survive without "Boheme." No company dares. Boy meets girl. Girl dies (yeah, it's always the girl). "Boheme" vies with "Carmen" as the most popular, the most performed and most identifiable opera in the world.
Why was this production so unexpectedly moving? Let's start with the director, Sandra Bernhard, who elicited agile, athletic performances from the cast. The blustering high jinks among the four callow artists in Acts 1 and 4 were more grounded, less self-conscious, than usual, and the enormous Paris-on-parade scene of Act 2 swept along in a swirl of color. Has the chorus ever sounded so loud? It rocked.
But it was Kelly Kaduce, who sang Mimi with gorgeous, open lyricism, who made the magic happen. Less flirty and frail-looking than most Mimis, she combined a beautiful voice and an instinct for understatement that melted our hearts. Early on, she showed her vocal strengths in the famous "They call me Mimi" aria, blooming into lovely sound as if someone had suddenly turned up the volume. With the words "But when spring comes," a hint of desperation crept into her voice - she knows she is ill, perhaps terminally - realizing that she needs the sun like any flower.
Another powerful moment, this one silent, came in the third act when Mimi and Rodolfo agree to split. She can't take his jealousy, and he believes his love isn't strong enough to save her. "Goodbye," she sings in a snowy courtyard. "No hard feelings." As she reached the gate, she put her hand out to steady herself, missed, and grasped air. In that gesture, we saw everything about Mimi: nobility, weakness and acceptance of death. It shot to the heart like a spasm.
As Rodolfo, Arturo Chacon-Cruz had to go some to match Kaduce. The heroic quality of his voice was impressive, but he could have had a subtler range of tone to engage his character and our imaginations. For example, he began his opening aria bluntly, perfunctorily, instead of conversationally, raising the intensity until the heroic high C, which he held. And held.
I wish he hadn't sung that other high C alongside Kaduce in their marvelous duet at the end of Act 1. Puccini didn't write it - only the soprano gets the high C at the end -- and the composer knew what he was doing. By letting Mimi alone soar to the top note, he's suggesting that Rodolfo is bowled over by her, actually in love for the first time, no longer just a young man on the make.
"Boheme" is all about ensembles, and of Rodolfo's three artistic buddies, Michael Todd Simpson's Marcello was a standout. Tall and lanky, he dominated his scenes with physical humor, robust singing and noisy grievances over his love-hate relationship with Musetta.
Speaking of whom, what a flirt she was. Alyson Cambridge's Musetta arrived on the scene like charging cavalry, skimming effortlessly above the crowd in her big aria. Mama, don't let your boys grow up to be sugar daddies.
Jose Rubio was a hearty Schaunard and Gustav Andreassen sang Colline with grave dignity, if unclear diction.
And here's one more reason this "Boheme" succeeded: the give-it-all-you've-got orchestra. Rarely has it played with such thrust and agility, not to mention richness. Conductor Antonello Allemandi found both delicacy and power in Puccini's lush music.
—
David Stabler,
The Oregonian