Back to List
Acclaim
Power roles for soprano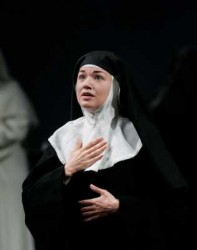 The earliest operas of the 17th century hymned the pastoral and retold mythic tales, but by the end of the 1800s, operatic stories had come much more down to a violent, sordid earth.
Law & Order, basically, over Ovid. Throw in Ghost Whisperer, and you have something resembling the double bill that will open Florida Grand Opera's 69th season Saturday.
The company will mount two short Italian operas, Pagliacci, Ruggero Leoncavallo's only lasting stage success, and Giacomo Puccini's all-female Suor Angelica, premiered in New York in 1918 and increasingly popular as a vehicle for sopranos in search of a powerful dramatic role.
The pairing, first done by FGO in 1997, breaks from the Metropolitan Opera tradition of staging Pagliacci with a one-act by another one-work man, Cavalleria Rusticana by Pietro Mascagni.
In the usual ``Cav and Pag,'' the focus is on the tenor, while Angelica shifts it to the soprano. For FGO, she is Kelly Kaduce, who will sing Angelica and Nedda, the adulterous wife in Pagliacci.
"Angelica is very passive and very sensitive and very docile," Kaduce says, "whereas Nedda is very feisty, and very strong in a physical way. . . . They're completely contrasting characters."
Pagliacci (Clowns) is the story of a troupe of players in southern Italy whose chief comic, Canio (tenor Jay Hunter Morris), suspects his Nedda of having an affair. His self-pitying, homicidal jealousy boils over at the end as he stabs Nedda and turns the fatal knife on her lover, Silvio.
Suor Angelica (Sister Angelica) is the story of a nun from a wealthy family who was sent to a convent after giving birth to a son out of wedlock. Seven years later, when her aunt comes to the convent to force Angelica to give up her inheritance, she learns that her child has died.
Overcome with grief, she poisons herself, then realizes she has committed a mortal sin. She begs the Virgin Mary to save her, and as a light floods the convent, the dying but ecstatic nun sees a vision of the Virgin leading the dead child by the hand.
For William Berger, a writer and producer who is a familiar voice on the Metropolitan Opera radio broadcasts, the twinning of Pagliacci and Angelica reaches beyond the victimized women.
"It's kind of about church and theater and that weird connection between the two," says Berger, whose books include Puccini Without Excuses. "The two most influential institutions in Italy were the Roman Catholic Church and theater, opera specifically, and this is not a coincidence. They reflect two seemingly divergent parts of the Italian psyche, but they have common roots."

BACK AGAIN
Kaduce, 35, who hails from rural Minnesota, has appeared in other FGO productions, most notably the title role in the world premiere of David Carlson's Anna Karenina in 2007.
"I really enjoy acting characters where you get to show such a large arc on stage," she says. "I'm always very fond of Marguerite [in Gounod's Faust], because I feel like she has a large arc as well. And I find that with Angelica."
Kaduce has pondered her characters' back stories. Nedda, a girl from the streets, is hardly intimidated by the men of the acting company.
"She's sort of forced to stand up to them," the soprano says, "and I think that comes across in that she's not very nice to them. . . . When they're violent with her, it upsets her, but it's nothing new. It's not like she hasn't been abused before. So I think you have a very broken person in that sense, physically broken."
As for the aristocratic Angelica, "I think she's incredibly sensitive and docile, and she doesn't talk about her feelings very much,'' Kaduce says. "So I think you have someone who is quite the opposite [of Nedda], someone who's very quiet all the time and then can't control it anymore and has an explosion."
Both characters are perfect fodder, in other words, for modern audiences reared on police procedurals, rom-coms and angel movies.
`CHICK FLICK'
"I'm going to say that maybe a good handful of Puccini operas are kind of like a chick flick, and [Angelica] is one of them," Kaduce says.
"And then you have this music, which is reminiscent of Catholic chant music, which is incredibly beautiful, and these soaring vocal lines over the top that just can't help but reach in and pull your heartstrings."
—
Greg Stepanich,
Miami Herald