Back to List
Acclaim
Sound Bites: Matthew Worth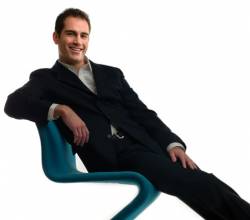 Photographed in New York by James Salzano
Matthew Worth, who sings his first Papagenos next month at Lyric Opera of Kansas City, says there was no clear moment when he decided that opera was the career for him. "I don't have 'moments.' The realization that this was what I wanted to do was gradual. I fell in love with opera -- with singing, really -- bit by bit, until it just took over my life." Worth took voice lessons during his undergraduate years at University of Richmond -- where he says that he didn't take "the singing thing" seriously -- before moving on to postgraduate studies at Manhattan School of Music and Juilliard Opera Center. "I knew things had changed when I got hired by Opera Theatre of Saint Louis to sing Moralès in Carmen. When I was getting ready to go out there, my teacher, Marlena Malas, said, 'Matty, this is where it starts -- now is the time to start paying attention. No joking around.' At that point in my life, I was ready to hear what she was saying."

That 2004 stint at OTSL has been followed by some high-profile assignments that have showcased Worth's bright, firm baritone and scene-stealing stage presence. In 2006, he created leading roles in the world premieres of Lowell Liebermann's Miss Lonelyhearts at Juilliard and Stephen Hartke's The Greater Good at Glimmerglass. The following year, he made his debut as Claudio in Béatrice et Bénédict at Chicago Opera Theater -- where he returns in spring 2009 for the title role in Britten's Owen Wingrave -- and then sang Tarquinius in The Rape of Lucretia for Lorin Maazel at the conductor's Virginia estate, followed by his first Guglielmo in Tanglewood's Così Fan Tutte, conducted by James Levine. "When I first heard about that job, it was 'Tanglewood or bust' as far as I was concerned. James Levine makes you want to sing better than you've ever sung before -- he really gives you a coaching when you audition. I was so excited I thought I was going to explode on I-95." Worth revisits Così in April, when Ira Siff's Tanglewood production is remounted at Opera Naples in Florida.

Asked to identify his biggest challenge as an artist thus far, Worth names Shrike, the demonic editor in Miss Lonelyhearts. "He's just so evil, so horrible to everyone, that the rehearsal process was very taxing. I'd come home at night, look in the mirror and think, 'I can't believe this creep is coming out of me.' Then I'd go into fetal position. But I have to admit, once the show was up, it felt so good to be so bad."
—
F. Paul Driscoll,
Opera News