Instrumentalist - Viola, Instrumentalist - Violin
Back to List
Acclaim
FC Symphony Concert to Mark Special Reunion Between Conductor and Musician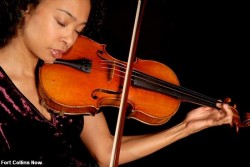 Fort Collins Symphony Director Wes Kenney is about to be reunited with one of his most accomplished and interesting pupils after more than twenty years.

Nokuthula Ngwenyama, 32, was eight years old when Kenney conducted her in a Los Angeles youth orchestra. At the time, Ngwenyama was only just beginning her studies with the violin, a pursuit that would lead her to international acclaim as a stellar soloist on the viola.

"He was actually my first conductor ever," Ngwenyama said in an interview. "I had studied before but that was really the beginning of my musical education as far as learning the orchestral repertoire."

Though they parted ways after a couple of years, the two have managed to keep in touch, enough so to eventually come full circle with this weekend's upcoming performance.

"The music world is really small so I've heard about how he's been doing and what he's been up to and vice versa," she said. "I haven't seen him in a very long time so this is going to be very exciting."

Kenney concurs with the small-world view of musical circles, noting that there's no question it attributed to this weekend's reunion.

"She (Ngwenyama) was an adjudicator for an international violin competition a couple years back in Salt Lake City and one of our (FC Symphony) players was also a judge there. They were talking and he mentioned my name and she said, 'I know Wes Kenney!'"

From there they got in touch and began brainstorming when Ngwenyama would be able to trek out to Fort Collins to perform with the Fort Collins Symphony.

In between now and playing for Kenney all those years ago, Ngwenyama has blossomed into an internationally respected violist. Her background and talents mark Ngwenyama as someone who seems to have been predestined for global stages and travels; she was raised in Los Angeles as daughter to a Zimbabwean father and a Japanese mother.

"Music has really taken me literally all over the world. It's really neat to be able to share music with other people around the world. I consider myself really lucky that I've been able to have these kinds of opportunities," Ngwenyama said.

It isn't only her travels and ethnicity that span the world, her musical tastes and aspirations are a snug fit with the rest of her eclectic background.

"There's never just one musician that I want to be just like, it's more a combination," she said. "I have always admired the great Russian violinists. I really respect the Russian tradition of playing and that has had a big effect on me. I also really love the French school of playing. I studied in Paris for a couple of years. I love the sound and intensity, beautiful and underrated, I might add."

Ngwenyama will explore her passion for French composition this weekend when the concert's theme will be "The French Connection." Not only are the compositions of French origin, but two of them are connected by one of the great violinists, Niccolò Paganini, who some thought was possessed because of his superior playing ability.

Though Paganini was of Italian descent, he urged French composer Hector Berlioz to compose a piece featuring solo parts for Paganini to display his considerable talents at the viola. He felt that Berlioz was the only composer capable of doing justice to his instrument and ability.

Berlioz, not accustomed to writing the kind of piece Paganini was expecting, failed to live up to the violinist's expectations, prompting Paganini to disregard Berlioz's effort and compose his own violin score, "Gran Sonate." Berlioz eventually completed the work he begun for Paganini, called "Harold in Italy," based off the writings of Lord Byron. The piece was regarded as a masterpiece, eventually even by Paganini himself.

Paganini's and Berlioz's compositions will be performed, along with a somewhat avant-garde composition by Maurice Ravel, "La Valse," of which Kenney said is such a difficult and nuanced piece that it would be impossible for his orchestra to perform were they not so talented.

Both Kenney and Ngwenyama are excited not only about the musical quality of the concert, but about the reuniting of their two illustrious and diverse careers after more than two decades.

"I think it's just going to be a wonderful concert," Ngwenyama said. "A reunion and really creatively rewarding."
—
Matt Brady,
Fort Collins Now