Back to List
Acclaim
Alexander just right in 'Candide'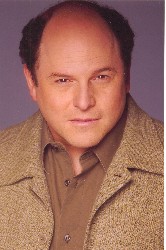 First staged as a Broadway show in 1956, Leonard Bernstein's operetta "Candide" was critically panned and died quickly.

Audiences and even critics loved the music but hated the show and its didactic book, penned by insufferable Marxist Lillian Hellman after Voltaire's eponymous satirical novella. Only Mr. Bernstein's brilliant overture to the work survived, remaining a concert staple to this day.

Over the next quarter-century, various hands attempted to reconstruct the work to more closely match Voltaire's wit and Mr. Bernstein's sprightly score. The New York City Opera presented a two-act version in 1982 that pretty much remains the standard.

The Wolf Trap Opera Company mounted a dynamite concert opera performance of "Candide" Sunday evening at the Filene Center - well attended despite torrential rains. Headlined by Broadway, TV and film star Jason Alexander as Dr. Pangloss, this presentation seemed largely on the City Opera version with later revisions by the composer. It also made liberal use (literally) of contemporary ad-libs and spoken narratives like those interpolated in recent European revivals.

"Candide" is propelled by a cartoonish plot in which nearly every character is slaughtered at some point only to reappear later, cheery and intact. Candide himself is a naive fellow. He wholeheartedly embraces the optimistic teachings of his tutor, Dr. Pangloss, who believes we're living in the "best of all possible worlds."

At this point, of course, the slaughter and mayhem begin, with Pangloss, Candide's beloved Cunegonde and numerous other characters being dispatched or abused in horrific ways but popping up in the next frame like Wile E. Coyote.

Mr. Alexander was nearly perfect as Voltaire/Pangloss, offering a witty reading of the narrative part while proving adept as a singer as well. We could have done without the narrative's contrived anti-Bush and anti-Cheney ad-libs - which in Washington, at least, insult the intelligence of about half the audience. However, Mr. Alexander's script mostly stuck to the story line, which pokes fun at mankind's inability to learn from mistakes.

Wolf Trap's young soloists had a blast, exhibiting sophistication and talent. Tenor Dominic Armstrong was powerful but affecting as the confused Candide. As Cunegonde, willowy soprano Anne-Carolyn Bird was at the top of her game, particularly in "Glitter and Be Gay," the stratospheric coloratura workout that has become the most popular aria in the score.

Mezzo Jamie Van Eyck stepped in to replace advertised superstar (and Wolf Trap alumna) Denyce Graves, who withdrew from the role of the Old Lady without much notice. Although her clever Polish accent occasionally made some of her lyrics difficult to parse, Miss Van Eyck's robust and authoritative instrument carried the day.

Remaining cast members turned in sterling performances, most notably baritone James J. Kee as Maximilian and soprano Leena Chopra as Paquette.

All were accompanied by an inspired National Symphony Orchestra, the City Choir of Washington and singers from the Wolf Trap Opera Studio, all under the baton of Stephen Lord, who did a bang-up job making sure the evening was loads of musical fun despite the weather.
—
T.L. Ponick,
Washington Times