Back to List
Acclaim
American Dreams: Of Mice and Men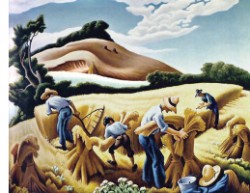 Dreams are the fuel of the American psyche. We are a people who have built an entire culture around the quest to fulfill our ideas of what tomorrow could be. The American Dream is the blank canvas that we are free to paint with the vision of what we want our lives to be.

But not every dream is fulfilled, and dreams denied are a fundamental part of the American story as well. And Saturday night as Anthony Dean Griffey and Phillip Addis took the stage as Lennie and George on the lam in the Fort Worth Opera's interpretation of the John Steinbeck by-way-of Carlisle Floyd masterpiece Of Mice and Men, we saw one of the most tragic ways a dreams shatter -- when they are just within reach.

When Griffey and Addis rhapsodize about the farm they will have someday and the night skies behind the Thomas Hart Benton-inspired landscape begin to break with dawn, you know that the dreams of these two men will never be fulfilled. That opening scene was the most heartbreaking moment of the entire opera festival for me.

When my wife and I had the good fortune to meet the composer himself at a reception after the show, my wife told him that she cried half her make-up off at that scene.

"That," said the very dapper 82-year-old Floyd, "is the highest compliment you could pay me."

Mr. Floyd, the honor is all ours. Thank you for joining us in Fort Worth.

And there are plenty of other kudos to go around. Griffey really owns the role of Lennie and he showed why on Saturday night. His rich tenor really colors the depth of this man-child. I came in with high expectations and left completely gobsmacked. He is, as they say, the stuff.

But Griffey wasn't alone. Addis' performance as George was full of power and intensity. Soprano Brandi Icard (Curley's wife) impressed me with her ability to hit the high notes. People definitely heard her on the back row. Stephen West (Candy) earned enthusiastic applause for his meaty bass-baritone. And North Texas' own Scott Scully also deserves recognition for his role as the balladeer -- a small part, but after seeing him twice during the Festival -- he also played Lou in Angels in America -- I can see why he has an up-and-coming career.

But one thing I still wonder after seeing a much emptier house than I expected -- why don't people don't turn out more for American opera? It's sung in English, based on American themes and has a very American sound. Why wouldn't more people want to see this?

I believe that Darren Woods has very rightly decided to position this company as an American company. As beautiful as any Puccini opera may be, Fort Worth is a very American city and we should tell American stories. He's taken on two impressive this year with Mice and Angels and he's prepared to do it again next year with Dead Man Walking.