Back to List
Acclaim
Trinity begins 150th birthday bash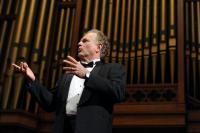 Brian Brainerd, The Denver Post
The longest-established church in Denver began celebrating its 150th year in the city in grand style Sunday.
Trinity United Methodist Church at 18th Avenue and Broadway hosted a full congregation of members and long-time admirers for a concert starring award-winning opera star Stephen West.
"Every time I'm here, I can't help thinking I belong here," said Karen Frasco, who is not a current member but whose parents were wed in the church in the early 1930s.
Trinity was organized by Preacher Jacob Adriance in 1859. The congregation moved into its Broadway location during Christmas 1888. The church was built using rhyolite quarried from Castle Rock by contractor William Geddes, famous for constructing the state Capitol and the Brown Palace Hotel. It was designed by Robert Roeschlaub, who also designed the Central City Opera House and East High School.
West, a Denver resident, sang 15 songs in his bass-baritone. Concert attendees said Sunday's event sustains the rich tradition of music and worship at the church.
"It revives the idea that this church also was built as a concert hall. It was a center for music and arts," said Claire Collins, who was president of the church choir for two years. "Just having people that have meant something to this congregation and to this church come back and want to be part of this celebration - it contributes to the history of the church."
The concert kicks off a year-long schedule of events at the church including theatrical dramas, musicals and choral concerts. An organ-restoration concert celebrating the church's 4,202-pipe organ is planned for Nov. 5.
The church will celebrate its 150th birthday the first Sunday in August.
—
Anthony Bowe,
Denver Post