Back to List
Acclaim
A Dallas orchestra reimagines LBJ's duel wars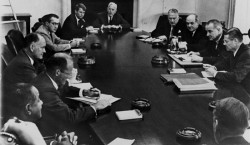 A haunted tenor voice will sing out in Dallas on Thursday. It will lament that a terrible war was based on a hollow threat, and that millions might have died because of a "mistake."

The Dallas Symphony Orchestra wanted a grand piece of music to commemorate Lyndon B. Johnson, born 100 years ago, and it may have gotten more than it bargained for: a 70-minute oratorio with implicit reverberations about another war propelled by faulty intelligence, prosecuted by another Texan.

The work, "August 4, 1964," composed by Steven Stucky to a libretto by Gene Scheer, is based on a single day in Johnson's presidency, and it joins a genre of classical music rife with worthy intentions and inherent risks: compositions that address current or recent events.

On that date Johnson told the American people that North Vietnamese forces had attacked a U.S. ship in the Tonkin Gulf, prompting retaliation and precipitating the resolution used to justify the Vietnam War. The report turned out to have been false - a result of mangled and probably falsified intelligence relayed to the president - although an actual attack had occurred two days earlier.

Robert S. McNamara, Johnson's secretary of defense and an architect of the Vietnam War, later acknowledged that the Aug. 4 attack had not occurred and said that if Johnson had known, he would not have ordered the retaliation.

"Had we known it was a tragic mistake," sings the tenor portraying McNamara,

Had we known on August 4th, 1964,

we were not attacked.

Had we known we would not have

ordered the first bombing of North

Vietnam.

Fifty-eight thousand U.S. dead.

Three point seven million Vietnamese

dead.

But that is not the only historical resonance of the piece, whose premiere on Thursday looms as one of the major orchestral events of the season, and one with rare potential for controversy. On the same day as the Tonkin Gulf incident, Johnson was dealing with a more immediate tragedy: the discovery of the bodies of three civil rights workers who had been murdered in Mississippi, Andrew Goodman, James E. Chaney and Michael H. Schwerner. The killings helped galvanize support for Johnson's civil rights agenda, including the Voting Rights Act of 1965, which forced Southern states to ease the path of blacks to vote, more than four decades before the nomination of a black man for president.

Using a collage of excerpts from Johnson's official diary, transcripts of Oval Office telephone conversations, speeches and contemporary news reports, Scheer has woven the incidents together in a libretto presenting a nuanced view of a complicated man. It combines Johnson's greatest and worst legacies and portrays him as noble and bitter, compassionate and bellicose.

The characters are Johnson (Robert Orth, baritone), McNamara (Vale Rideout), Mrs. Chaney (Laquita Mitchell, soprano) and Mrs. Goodman (Kelley O'Connor, mezzo-soprano). The Dallas Symphony's new music director, Jaap van Zweden, conducts.

In interviews past and present officials of the orchestra, Scheer and Stucky all said they had been aware from the outset that the work drew a parallel between two wars, Vietnam and Iraq, and two presidents, Johnson and George W. Bush. But they studiously played down the political issues.

"I think we should all, as citizens, reflect on the reality of what's going on, and this may help," Stucky said. "I certainly don't want it to be seen as a statement about the present, because it is so much about the past too."

The Dallas Symphony said that the Bush family had not been invited, and that Johnson's two daughters had declined to attend. But others connected with the Johnson administration were expected, the orchestra said, along with officials from the Lyndon Baines Johnson Library and Museum, which cooperated with the project.

One historian given a copy of the libretto said he found the juxtaposition of the two issues "weird." But then, "it must have been weird getting his mind around two such different crises happening simultaneously," said the historian, Edwin Moise of Clemson University, who wrote a book about the Tonkin Gulf incident.

"August 4, 1964" raises other questions. Classical music in recent times, especially in the United States, seems less potent than other art forms as a means of challenging the status quo or making political commentary. But there have been powerful recent additions to the genre, including Steve Reich's "Daniel Variations," inspired by the 2002 murder of the Wall Street Journal reporter Daniel Pearl in Pakistan. The Dallas work serves as a reminder of both the pitfalls and the value of such ventures. Too much relevance can lead to political schlock, like bad Prokofiev, or cornball hagiography, like Copland's "Lincoln Portrait." For the creators too much topicality may distract from the goal of making a piece of art that will endure.

Stucky said he had not thought of the work's political implications as he was composing. "I was concentrated on writing the best piece I could."

Scheer agreed, saying it was "absolutely not" his intention to comment on politics; rather, he said, he wanted to depict Johnson's "emotional reality."

Scheer pointed out that the McNamara lament, which occurs late in the piece, came about largely because he and Stucky felt that the tenor character did not have enough lyrical material. It also provided a sense of redemption for the character.

In the short term, topical works like "August 4, 1964" at least provoke conversation, and the attention that classical music institutions crave in a pop-ruled YouTube world.

"The Dallas Symphony hopes to make a musical and artistic statement with this," said Mark Melton, the orchestra's vice president for artistic operations, who was involved in choosing Stucky for the commission. "I really hope this piece will have a major life beyond Dallas."

The man behind the idea of commemorating Johnson was Fred Bronstein, who was president of the Dallas Symphony until he moved on to the St. Louis Symphony six months ago. Bronstein said he had not seen the libretto and pointed out that the creators were given free rein about subject matter. The only stipulation was a piece for chorus, orchestra and four soloists to commemorate Johnson.

When asked about modern parallels, Bronstein answered indirectly.

"History repeats itself," he said. "How this war is judged, time will tell."
—
Daniel J. Wakin,
International Herald Tribune