Back to List
Acclaim
'Romeo' stars return in opera 'Faust' at Tampa Bay Performing Arts Center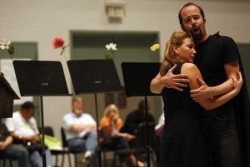 In 2006, Opera Tampa had a triumph with Gounod's
Romeo et Juliette
, with the youthful pair of Vale Rideout and Rachel Watkins as the star-crossed teenagers. So why not cast the two in the French composer's other big opera,
Faust
?
"They were so remarkably effective when we had them together in Romeo et Juliette, and now it's Gounod again," conductor Anton Coppola said this week. "So let's bring that whole combination back together, including director David Lefkowich. Since Romeo worked so well, I think Faust should, too."
Rideout plays the aged Faust, who sells his soul to Mephistopheles (Mark Doss) in exchange for youth and the chance to seduce virginal Marguerite, sung by Watkins. Both Rideout and Watkins are making their debuts in the roles.
"They're intelligent kids," Coppola said. "They bring a good grasp of the motivation of the characters. They're not just vocal instruments. She goes from a shy, modest girl who's awakened physically and emotionally and sexually in the garden, then she's a repentant sinner in the church scene, and then she's emotionally unstable at the end. She's able to portray all of that, right down the line. It all comes out."
—
John Fleming,
St. Petersburg Times