Back to List
News
February 19, 2009
Rideout Stars in Gotham Chamber Opera's Mark Morris Production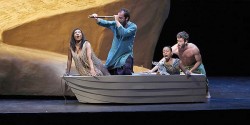 Vale Rideout is one of four soloists in Mark Morris' production of Haydn's L'Isola Disabitata (The Deserted Island) with Gotham Chamber Opera.
[See Thirteen's Sunday Arts feature online]
* * *
L'isola disabitata
Joseph Haydn
In honor of the bicentennial of Joseph Haydn's death, Gotham Chamber Opera presents the New York City stage premiere of Haydn's L'isola disabitata, in a new production directed by Mark Morris. L'isola disabitata is Mark Morris's first collaboration with Gotham Chamber Opera. The work, with a libretto by Metastasio, calls for four singers and a typical early classical orchestra.
Thirteen years before the action begins, Costanza and the infant Silvia were shipwrecked on a deserted island. Costanza has raised Silvia to hate and fear men. Now a man arrives ...
L'isola disabitata had its premiere at the Esterhazy palace in 1779 and was Haydn's favorite of his own operas.

credits
Conductor Neal Goren
Production Mark Morris
Scenic Design Allen Moyer
Costume Design Elizabeth Kurtzman
Lighting Design Michael Chybowski
CAST
Costanza Takesha Meshé Kizart
Silvia Valerie Ogbonnaya
Gernando Vale Rideout
Enrico Tom Corbeil
February 18 - 28, 2009
Wednesday, February 18 at 7:30pm (Opening Night); Saturday, February 21 at 8pm; Wednesday, February 25 at 8pm; Friday, February 27 at 8pm; and Saturday, February 28 at 8pm
See Related: