Back to List
Recordings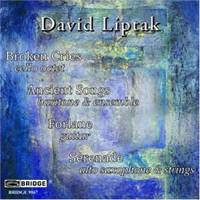 The Music of David Liptak
Released:
December 7, 2005
The Music of David Liptak (b. 1949)

Broken Cries
Tarab Cello Ensemble
Florent Renard-Payen, lead soloist
Elizabeth Brown, soloist

Ancient Songs
William Sharp, baritone
Dinosaur Annex Music Ensemble
Scott Wheeler, conductor

Forlane
David Starobin, guitar

Serenade
Chien-Kwan Lin, alto saxophone
Eastman Philharmonia
Bradley Lubman, conductor

This CD presents premiere recordings of four works by the gifted American composer, David Liptak. Liptak's music builds large detailed structures from small and simple means. Frequently, a simple rhythmic gesture will generate an entire movement or a melodic figure will often transform itself, becoming a flower from a seed. Broken Cries was composed for the Tarab Cello Ensemble, which performs it here. The composer writes that "I imagined a kind of of music that was filled with hesitation. Pauses and silences break the flow of sounds, as a voiced cry is sometimes broken by a breath, or perhaps, a sudden thought." Liptak's stunning Ancient Songs takes most of its texts from ancient oral traditions of various cultures- the Passamaquoddy Indian tribe from Maine, the Papago Indian tribe from the southwest, the African Gabon pygmy culture, and a Scottish nursery rhyme. At the end of the cycle, a poem by the American poet James Wright provides a remarkable apotheosis.! The songs are sung with intensity by the work's dedicatee, the wonderful American baritone, William Sharp. The composition of Liptak's hauntingly beautiful Serenade was begun at the composer's summer home in Denmark, and Liptak writes that it "represents the warmth and ease of a Danish summer evening." The five extremely varied movements of this serenade run from simple and meditative to dance-like and highly energetic. The closing work is certainly this disc's simplest and most direct- a short Forlane for solo guitar. Guitarist David Starobin is the performer of this hypnotic little gem.
Related Links
Featured Artists